Immunofluorescence Using the ibidi Chambers
| | | | |
| --- | --- | --- | --- |
| ibidi provides several solutions that fit your needs for immunofluorescence assays: | | | |
| Bottom material | | | Standard glass slide |
| Additional coverslips required? | No | No | Yes (for mounting) |
| Microscope type | Inverted | Inverted | Inverted & upright |
| Mounting medium | Non-hardening | Non-hardening | Hardening |
| Sample storage | Short-term | Short-term | Long-term |
Benefits of ibidi µ-Chambers
High-resolution imaging
The ibidi slides are ideal for widefield fluorescence, confocal imaging, FRAP, FRET, FLIM, and undisturbed phase contrast imaging.
Fast and simple handling
The all-in-one chambers simplify your immunofluorescence protocol.
Cost-effective experiments
Only a small number of cells and low reagent volumes are needed.
Comparison of Immunocytochemistry Protocols:
Traditional Staining vs. Staining With ibidi Solutions
When using any of the ibidi solutions, the immunofluorescence staining protocol is much shorter than the traditional protocol. There is no need to grow the cells on loose coverslips—the cells can be grown and stained directly in the ibidi slides.
Protocol With Cells on Coverslips

(Traditional method with nail polish mounting)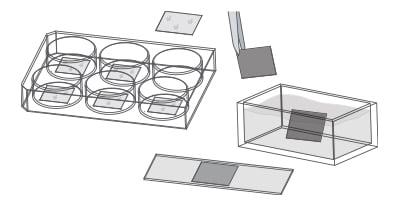 Sterilize coverslips and slides
Coat coverslips
Place sterile coverslips into 6-well plate
Seed cells in large volume
Peel off the coverslip
Wash
Fix – wash – permeabilize – wash – block
Incubate in primary antibody – wash – incubate in secondary antibody
Wash
Mount cells with mounting medium
Mount coverslip with nail polish
Protocol With ibidi µ-Slides

(Time-saving method using all-in-one chambers)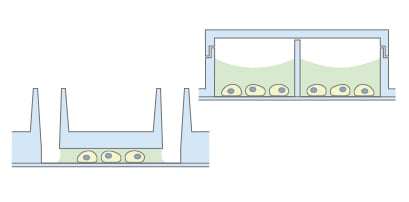 Sterilize coverslips and slides
Coat coverslips
Place sterile coverslips into 6-well plate
Seed cells

in large volume

Peel off the coverslip
Wash
Fix – wash – permeabilize – wash – block
Incubate in primary antibody – wash – incubate in secondary antibody
Wash
Mount cells with mounting medium
Mount coverslip with nail polish
Find detailed immunofluorescence staining protocols in the ibidi Application Notes: