ibidi at a Glance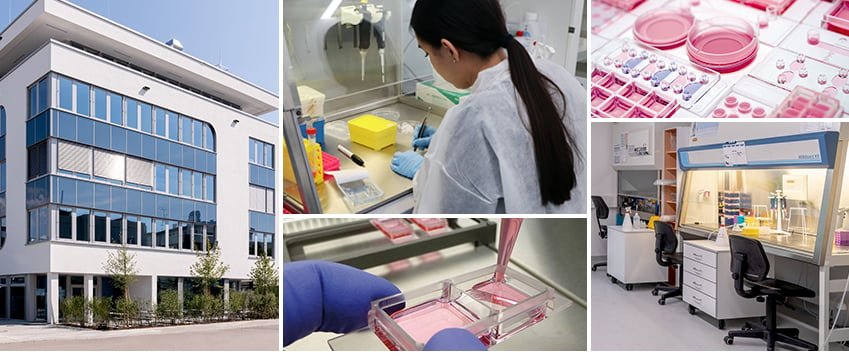 40 +
100 +
500 +
30,000 +
40,000 +


Countries
Patents
Products
Citations
Customers

Company Overview and History
ibidi is a leading supplier for functional cell-based assays and advanced products for cellular microscopy. ibidi is located in Gräfelfing, Germany, close to Munich. The US headquarters, ibidi USA Inc., is located in Fitchburg, Wisconsin.
In 2001, ibidi was founded by three physics PhD students and their group leader as a spin-off from the Technische Universität München (TUM) and the Center for Nanoscience (CeNS) at the University of Munich (LMU). Today, a close-knit team of physicists, biologists, and engineers work together to develop ground-breaking products, and their colleagues in production, procurement, warehouse management, and sales get them to customers world-wide.
A shared passion for innovation, quality, and service among all ibidi employees, and a strong relationship to the customer, are the keys to ibidi's excellence and success.
The impact of ibidi products on the global application of science is highlighted in more than 28,000 peer-reviewed publications. Currently, more than 10 peer-reviewed papers citing the use of ibidi products are published daily. Additionally, there are now over 5000 patents that use ibidi products. All of these product acknowledgements highlight ibidi's ongoing goal to contribute significantly to solving real-life problems, which in turn makes improvements in medicine and health care possible.
Market
• Analytics of living cells (Size: 1 Billion US$)
• Diagnostics of living cells (Size: 9 Billion US$)
Technologies
• Cell-Based Assays
• Cell Biochips (Labware)
• Instruments
Legal
• Founded:
• Legal form:
• Ownership:
• Certificates:
• CEO:

2001
GmbH
Private
ISO 9001, ISO 13485
Dr. Roman Zantl | Dr. Valentin Kahl
Awards
• Export Award Bavaria 2021
• Germany Land of Ideas (2016)
• Industry Award (2016, 2012)
• German Economy Innovation Award (2013)
• Fast 50 (2012, 2011, 2010, 2009)
• Step Award Finalist (2011)