Precise Control of Humidity and Temperature

Request a Free Demo

The ibidi Stage Top Incubators ensure optimal physiological conditions during live cell imaging.

The systems fit every standard inverted microscope and include CO2 and O2 control. They are ideal for all live cell imaging applications and available for single slides and dishes as well as for multiwell plates.
Constant and Rapid Humidity Control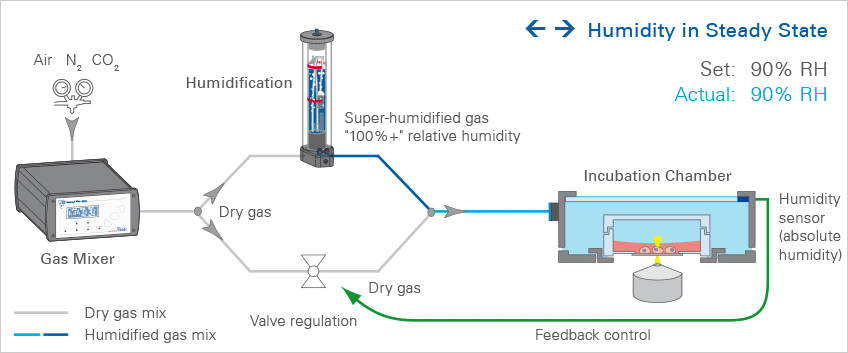 The patented ibidi Humidity Control ensures a constant and very high level of humidity inside the ibidi Stage Top Incubator—identical to the conditions in modern cell culture incubators.

Learn more here.
The Same Temperature in Every Well

Robust results: The ibidi Stage Top Incubators provide a consistent temperature throughout the whole dish, slide, or multiwell plate.
Learn more here.
See How Others Use ibidi Stage Top Incubators:
Murschhauser, A., et al. (2019). A high-throughput microscopy method for single-cell analysis of event-time correlations in nanoparticle-induced cell death. Communications Biology. 2: 35.
Read article

Neubert, E., et al. (2018). Chromatin swelling drives neutrophil extracellular trap release. Nature Communications. 9: 3767.
Read article

Eldridge, W. J., et al. (2018). Molecular and biophysical analysis of apoptosis using a combined quantitative phase imaging and fluorescence resonance energy transfer microscope. J Biophotonics 11(12): e201800126.
Read article


Find more publications here.