ibidi Photo Contest
Do you have a stunning microscopy image that you would like to showcase in the next ibidi calendar?
Then enter your image in the ibidi contest today!
The winners will receive 3 free calendars and their image featured on the ibidi website.
Deadline for submission is July 31, 2023.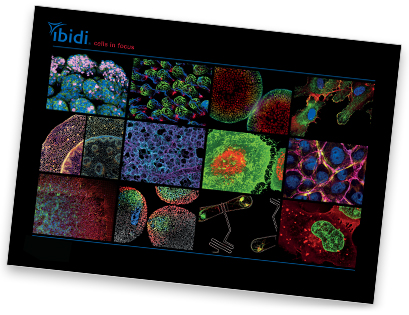 CUSTOMER COMMENT
"After being selected for the 2022 ibidi calendar, I received my wonderful ibidi calendar package last week. It was sooo exciting! The quality of the calendar is absolutely spectacular and I couldn't be more pleased!"
Lindsey Fitzsimons, University of New England, Biddeford, USA
2022 ibidi Calendar, December
Henrique Nogueira Pinto
Bioengineered 3D Microenvironments Group, Instituto de Investigação e Inovação em Saúde (i3S), Universidade do Porto, Portugal
Spheroid of human intestinal fibroblasts and outgrowth endothelial cells sprouting in a fibrin hydrogel, cultured in an ibidi µ-Slide 4 Well. Endothelial cells were stained with CD31 (yellow), fibroblasts with vimentin (red), and DNA with DAPI (cyan). This image was acquired using a Leica TCS SP5 II confocal laser scanning microscope with a 10x objective.
Follow @henriquenpinto on Instagram.