ibidi Photo Contest
Do you have a stunning microscopy image that you would like to showcase in the next ibidi calendar?
Then enter your image in the ibidi contest today!
The winners will receive 3 free calendars and their image featured on the ibidi website.
Deadline for submission is July 31, 2023.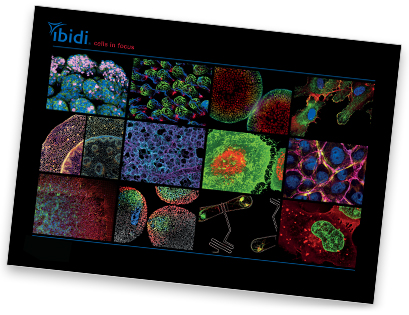 CUSTOMER COMMENT
"After being selected for the 2022 ibidi calendar, I received my wonderful ibidi calendar package last week. It was sooo exciting! The quality of the calendar is absolutely spectacular and I couldn't be more pleased!"
Lindsey Fitzsimons, University of New England, Biddeford, USA
2023 ibidi Calendar, March
Felix Spira, Emilie Keidel
Molecular Devices GmbH, Puch/Hallein, Austria
Maximum projection of a hepatic organoid acquired on an IXM-HT.ai automated spinning disk confocal microscope with a 20x water immersion objective. The organoids were cultured and imaged in a μ-Plate 96 Well Black. Depth information is encoded by color.