ibidi Photo Contest
Do you have a stunning microscopy image that you would like to showcase in the next ibidi calendar?
Then enter your image in the ibidi contest today!
The winners will receive 3 free calendars and their image featured on the ibidi website.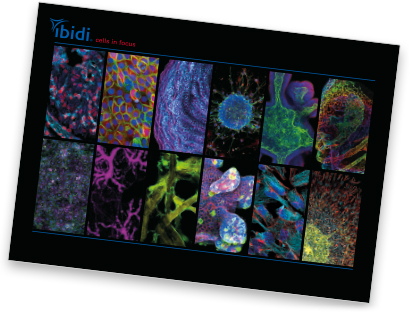 CUSTOMER COMMENT
"After being selected for the 2022 ibidi calendar, I received my wonderful ibidi calendar package last week. It was sooo exciting! The quality of the calendar is absolutely spectacular and I couldn't be more pleased!"
Lindsey Fitzsimons, University of New England, Biddeford, USA
Image of the Month

2022 ibidi Calendar, June
Anahí Binagui-Casas
Institute for Stem Cell Research, Centre for Regenerative Medicine, University of Edinburgh, United Kingdom
3D whole-mount of a day 8.5 mouse embryo in an ibidi μ-Slide 8 Well Glass Bottom, showing the complex and perfectly organized network of interconnected vessels that will, together with the heart, keep the embryo alive and growing. The vasculature network is depicted using a fluorescent reporter for the endothelium and a rainbow coloring has been applied for tissue depth. This image was taken on a Leica SP8 confocal microscope.
Follow @_abinagui on Twitter.