ibidi Photo Contest
Do you have a stunning microscopy image that you would like to showcase in the next ibidi calendar?
Then enter your image in the ibidi contest today!
The winners will receive 3 free calendars and their image featured on the ibidi website.
Deadline for submission is July 31, 2024.
Submit Your ibidi Photo Contest Image Here
Explore all winning images of the 2023 ibidi Calendar
or visit the ibidi CellArt Gallery.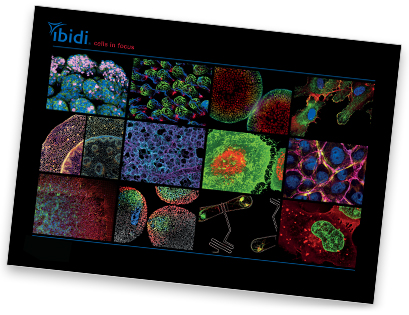 CUSTOMER COMMENT
"After being selected for the 2022 ibidi calendar, I received my wonderful ibidi calendar package last week. It was sooo exciting! The quality of the calendar is absolutely spectacular and I couldn't be more pleased!"
Lindsey Fitzsimons, University of New England, Biddeford, USA
2023 ibidi Calendar, September
Elvira Guella, Silke Seyock
MaxWell Biosystems AG, Zurich, Switzerland
Human iPSC-derived glutamatergic neurons and astrocytes were plated as a co-culture in a drop on top of a protein-coated CMOS-based high-density microelectrode (HD-MEA) chip. Neuronal cells were stained against β III tubulin (red), astrocytes against S100β (green) and cell nuclei with DAPI (blue). The rectangular-shaped shadow indicates the electrode array area. Images were acquired using a confocal microscope Zeiss LSM 780 with a 5× objective.
Follow @mxwbio on Twitter and MaxWell Biosystems on Instagram.