ibidi Photo Contest
Do you have a stunning microscopy image that you would like to showcase in the next ibidi calendar?
Then enter your image in the ibidi contest today!
The winners will receive 3 free calendars and their image featured on the ibidi website.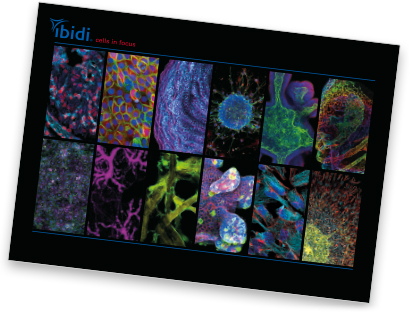 CUSTOMER COMMENT
"After being selected for the 2022 ibidi calendar, I received my wonderful ibidi calendar package last week. It was sooo exciting! The quality of the calendar is absolutely spectacular and I couldn't be more pleased!"
Lindsey Fitzsimons, University of New England, Biddeford, USA
Image of the Month

2022 ibidi Calendar, January
Lindsey Fitzsimons
College of Osteopathic Medicine, University of New England, Biddeford; Graduate School of Biomedical Science & Engineering, University of Maine, Orono, ME, USA
Immunofluorescence of a human glomerulus stained with primary antibodies against Fibronectin-1 (cyan) and the Sonic Hedgehog ligand (blue). Nuclei were labeled using ibidi Mounting Medium with DAPI (red). The image was acquired using a Leica TCS SP5 laser scanning confocal microscope with a 40x objective.
Follow @LAF_in_the_LAB on Instagram and Twitter.