ibidi Licensing

Licensing Opportunities
ibidi holds an extensive patent portfolio of more than 30 patent families and is offering licensing opportunities for these technologies. Please find a list of the ibidi patent families here.
Are You Interested in ibidi Licensing Opportunities?
Please contact us at: [email protected]
Licensing Example: For-Profit Use of LifeAct in Internal Research
Actin is the most abundant protein in most eukaryotic cells, and is involved in many crucial processes, such as cell division, endocytosis, cell migration, and chemotaxis.
Using LifeAct, a novel marker for the visualization of F-actin in living cells, enables your team to do live imaging of the cytoskeletal organization and cellular dynamics.
Actin functionality is not only crucial in cardiovascular diseases, but data are also showing the importance in oncology, neurobiology, and nephrology. When using LifeAct, angiogenesis processes and endothelial cell biology are specifically addressed.

Original publication:
Riedl J, et al. (2008) Lifeact: a versatile marker to visualize F-actin. Nat Methods 5(7):605–607. read abstract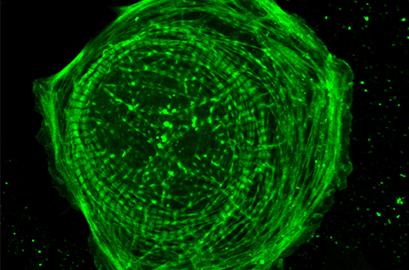 F-actin visualization in primary myocytes expressing LifeAct-TagGFP2-mRNA.
LifeAct: Facts and Benefits
Visualizes F-actin in living and fixed eukaryotic cells with excellent signal-to-noise ratio
Specifically binds F-actin and is coupled to the fluorescence marker GFP or RFP
Fully preserves actin functionality and dynamics
Highly biocompatible without any cell toxicity
LifeAct Product Family
LifeAct Patents
| | | | |
| --- | --- | --- | --- |
| Country | Patent No. | Title | Status |
| USA | US 8,957,029 | Peptide for determining Actin Structures in living Cells | Issued |
| USA | US 9,225,128 | Nucleic Acid for determining Actin Structures in living Cells | Issued |
| Europe | EP 2 215 109 | Peptide for determining Actin Structures in living Cells | Issued |
ibidi Patents
Country
Patent No.
Title
Status
USA
US 7,517,499
Flowchamber
Issued
USA
US 8,162,357
Microfluid System
Issued
USA
US 7,799,282
Samole Chember for a Liquid
Issued
USA
US 8,263,391
Specimen Carrier for the Study of Cell Growth
Issued
USA
US 9,778,153
Microfluid Device and Method of Producing Diffusively Built Gradients
Issued
USA
US 8,679,737
Microfluid device and method of producing diffusively built gradients
Issued
USA
US 8,470,110
Sample Chamber and Method for the Production Thereof
Issued
USA
US 7,582,264
Device for microfluid analyses
Issued
USA
US 7,934,519
A valve unit for a microfluid system
Issued
USA
US 8,001,857
Sample Chamber
Issued
USA
US 9,927,421
Sample Chamber
Issued
USA
US 9,915,593
Method of Positioning an Organic, Biological and / or Medical Specimen
Issued
USA
US 8,507,261
Incubation Container
Issued
USA
US 9,255,128
Nucleic Acid for Determining Actin Structures in Living Cells
Issued
USA
US 8,957,029
Peptide for Determining Actin Structures in Living Cells
Issued
USA
US 9,333,503
Sample Chamber with Parting Plate
Issued
USA
US 9,242,409
Method of Manufacturing a Sample Chamber
Issued
USA
US 1,003,7043
Apparatus for Providing a Gas
Issued
Europe
EP 1 347 284 (DE, FR, GB)
Probenträger mit integrierter Optik
Issued
Europe
EP 1 360 492 (DE, FR, GB,
CH, BE, AT)
Probenträger für chemische und biologische Proben
Issued
Europe
EP 1 39 7483 (DE, FR, GB)
Mikrofluidsystem
Issued
Europe
EP 1 480 749 (DE, FR, GB,
CH, BE)
Mikrofluidsystem
Issued
Europe
EP 1 718 409 (DE, FR, DE)
Vorrichtung für Mikrofluiduntersuchungen
Issued
Europe
EP 2 148 921 (DE, FR, GB,
GB, NL)
Incubation Container
Issued
Europe
EP 1 579 982 (DE, Fr, GB,
CH, BE)
Verfahren zum flächigen Quellschweissen eines Kunststoffkörpers mit einem weiteren Körper
Issued
Europe
EP 1 886 792 (DE, FR, GB,
CH, BE)
Vorrichtung für Mikroskopuntersuchungen
Issued
Europe
EP 1 458 483 (DE, FR, GB,
CH, BE, AT, DK, NL)
Flusskammer
Issued
Europe
EP 1 880 765 (DE, FR, GB,
CH)
Mikrofluidsystem
Issued
Europe
EP 1 741 487 (DE, FR, GB,
CH)
Mikrofluid-Vorrichtung und Verfahren zur Erzeugung diffusiv aufgebauter Gradienten
Issued
Europe
EP 2 255 881 (DE, FR, GB)
Mikrofluid-Vorrichtung und Verfahren zur Erzeugung diffusiv aufgebauter Gradienten
Issued
Europe
EP 2 269 735 (DE, FR, GB,
CH, BE, AT, DK, NL)
Verfahren zur Erzeugung diffusiv aufgebauter Gradienten
Issued
Europe
EP 1 750 155 (DE, FR, GB,
CH, AT, DK, NL)
Verfahren zur Herstellung einer Probenkammer
Issued
Europe
EP 2 261 718 (DE, FR, GB,
CH, BE, NL)
Verfahren zur Herstellung einer Probenkammer
Issued
Europe
EP 1 596 961 (DE, FR, GB,
DK, CH, NL)
Probenkammer für eine Flüssigkeit
Issued
Europe
EP 1 880 764 (DE, FR, GB,
CH, AT, DK, NL)
Probenträger zur Untersuchung von Zellwachstum
Issued
Europe
EP 1 944 084 (DE, FR, GB,
NL, CH)
Ventilvorrichtung für ein Mikrofluidsystem
Issued
Europe
EP 2 008 715 (DE, FR, GB,
CH, NL)
Probenkammer
Issued
Europe
EP 2 263 797 (DE, FR, GB,
CH, NL)
Probenkammer
Issued
Europe
EP 2 095 876 (DE, FR, GB,
CH, DK, AT)
Abdeckvorrichtung für einen Probenträger
Issued
Europe
EP 2 492 012 (DE, FR, GB,
CH, BE, NL)
Abdeckvorrichtung für einen Probenträger
Issued
Europe
EP 2 169 391 (DE, FR, GB)
Probenkammerhalter zum Haltern einer Probenkammer und System bestehend aus der Probenkammer und dem Probenkammerhalter
Issued
Europe
EP 2 599 548 (DE, FR, GB,
CH, NL)
Probenträger zum Positionieren einer organischen, biologischen und/oder medizinischen Probe
Issued
Europe
EP 2 251 668 (DE, FR, GB)
Verfahren zum Positionieren einer organischen, biologischen und/oder medizinischen Probe
Issued
Europe
EP 2 215 109 (DE, FR, GB,
BE, CH)
Peptide for Determining Actin Structures in Living Cells
Issued
Europe
EP 2 604 342 (DE, FR, GB,
AT, BE, CH, DK, NL)
Probenkammer mit Trennplatte
Issued
Europe
EP 2 674 281 (DE, FR, GB,
CH, NL)
Probenkammer und Verfahren zum Herstellen einer Probenkammer
Issued
Europe
EP 2 770 047 (DE, FR, GB,
AT, BE, CH, DK, NL)
Vorrichtung zum Bereitstellen eines Gases
Issued
China
ZL 2012 105,36279.6
Sample Chamber with Parting Plate
Issued
Germany
DE 100 04135
Kammer für Zellkulturen
Issued
Germany
DE 101 05711
Probenträger für chemische und biologische Proben
Issued
Germany
DE 101 48210
Flusskammer
Issued
ibidi Patents Pending
Country
Patent Appl. No.
Title
Status
USA
US-2009-0191621-A1
Cover device for a sample carrier
Pending
USA
US-2017-0009255-A1
Method for producing a fusion mixture for transfer of a charged molecule into and/or through a lipid membrane
Pending
Europe
EP 3 095 517 (Anmeldung)
Probenträger mit einer Referenzstruktur und Verfahren zum Herstellen eines
Probenträgers mit einer Referenzstruktur
Pending
Europe
EP 2 261 719 (Anmeldung)
Probenkammer und Verfahren zu ihrer Herstellung
Pending
Europe
EP 3 020 480 (Anmeldung)
Fluidkanalsystem zur Untersuchung von Zellen
Pending
Europe
EP 3 115 039 (Anmeldung)
Verfahren zum Herstellen einer Fusionsmischung zur Übertragung eines geladenen Moleküls in und/oder durch eine Lipidmembran
Pending