ibidi Prototypes for Virology Research
The ibidi R&D team is focusing on developing products that help COVID-19 research. Please note that the prototypes listed below are currently in R&D and not yet commercially available. Therefore, we cannot provide technical support for them at this time.
We are looking for collaborators: please contact us at [email protected],
if you would like to cooperate with ibidi on a specific application.
Perfusable Lung Chip Prototype
In cooperation with Ethris GmbH (Planegg, Germany) and Ludwig-Maximilians-University Munich.
A prototype lung chip for culturing lung epithelial cells on an air-liquid interphase (ALI). The chip has two channels for double perfusion at defined shear stress and air exposure.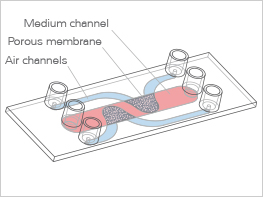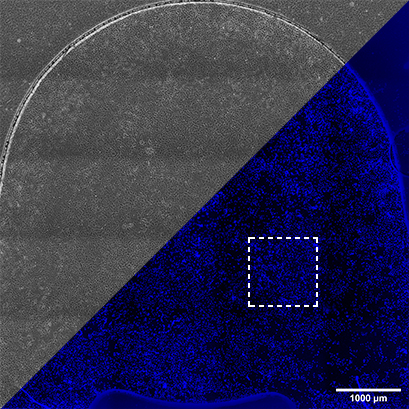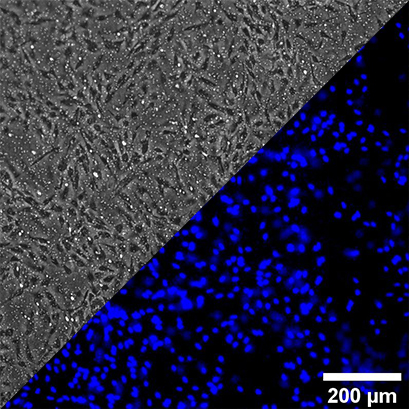 DAPI Staining and Phase Contrast Microscopy of A549 Lung Cells
Phase contrast and fluorescence microscopy show the morphology and the nuclei (DAPI) of A549 lung cells, cultured on the lung chip prototype. Left: stitched image of one well. Right: enlarged detail showing the cell morphology. Data by Dr. Anita Reiser, Chair of Prof. Rädler, Ludwig-Maximilians-University Munich.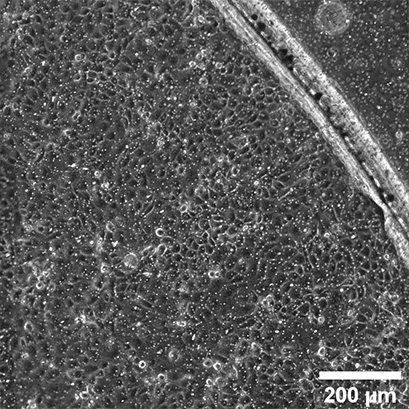 Phase Contrast of Human Bronchial Epithelial Cells
Phase contrast microscopy of human bronchial epithelial (16HBE) cells cultured on the lung chip prototype. Note the clear visibility of the pores, especially in the area outside of the well in the upper right. Data by Dr. Anita Reiser, Chair of Prof. Rädler, Ludwig-Maximilians-University Munich.
Micropatterned Chip for Epithelial Cell Culture
The ibidi µ-Patterning technology enables spatially defined cell adhesion for various 2D and 3D cell culture applications, and is optimized for high resolution imaging and microscopy.
Find more details about the ibidi micropatterning technology here.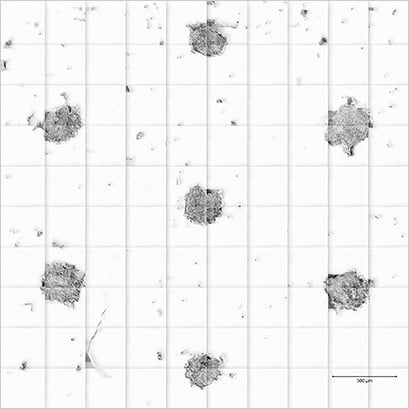 A549 human lung cells on a micropattern (300 µm circles with a center-to-center distance of 1300 µm) in a µ-Slide 8 Well. Data by: Charité – Universitätsmedizin Berlin, Dept. of Internal Medicine / Infectious Diseases and Respiratory Medicine, Hocke Lab – Molecular Imaging of Immunoregulation.