Scientific Posters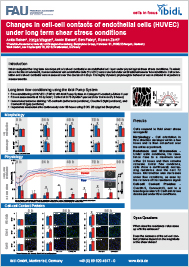 Changes in cell-cell contacts of endothelial cells (HUVEC) under long term shear stress conditions (PDF)
Presented at the North American Vascular Biology Organization (NAVBO) Conference 2014, Monterey, California, USA.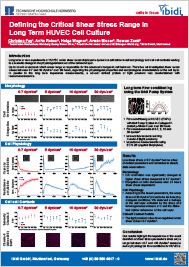 Defining the Critical Shear Stress Range in Long Term HUVEC Cell Culture (PDF)
Presented at the 17th Barrier and Transporter Meeting 2015, Bad Herrenalb, Germany.
Selected Publications
T. G. Walsh et al. Stabilization of Brain Microvascular Endothelial Barrier Function by Shear Stress Involves VE cadherin Signaling Leading to Modulation of pTyr Occludin Levels. Journal of Cellular Physiology, 2011, 10.1002/jcp.22655
read abstract
T. Keeley, R. Siow, R. Jacob and G. Mann. A PP2A-mediated feedback mechanism controls Ca2+-dependent NO synthesis under physiological oxygen. The FASEB Journal, 2017, 10.1096/fj.201700211R
read abstract
A. Sabine et al. FOXC2 and fluid shear stress stabilize postnatal lymphatic vasculature. The Journal of Clinical Investigation, 2015, 10.1172/JCI80454
read abstract
Find more publications in the ibidi Reference Database.