Scientific Posters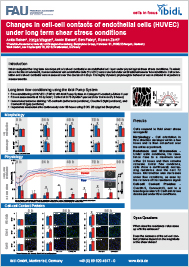 Changes in cell-cell contacts of endothelial cells (HUVEC) under long term shear stress conditions (PDF)
Presented at the North American Vascular Biology Organization (NAVBO) Conference 2014, Monterey, California, USA.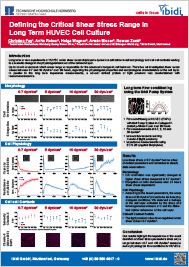 Defining the Critical Shear Stress Range in Long Term HUVEC Cell Culture (PDF)
Presented at the 17th Barrier and Transporter Meeting 2015, Bad Herrenalb, Germany.
Selected Publications
D.C. 't Hart, J. van der Vlag, T. Nijenhuis. Laminar flow substantially affects the morphology and functional phenotype of glomerular endothelial cells. PLoS One, 2021, 10.1371/journal.pone.0251129
Read article
N.M. Wakida, G.M.S. Cruz, P. Pouladian, M.W. Berns, D. Preece. Fluid Shear Stress Enhances the Phagocytic Response of Astrocytes. Front Bioeng Biotechnol, 2020, 10.3389/fbioe.2020.596577.
Read article
I. Xanthis, C. Souilhol, J. Serbanovic-Canic, et al. β1 integrin is a sensor of blood flow direction. J Cell Sci, 2019, 10.1242/jcs.229542
Read article
J. Xu, J. Mathur, E. Vessières, et al. GPR68 Senses Flow and Is Essential for Vascular Physiology. Cell, 2018, 10.1016/j.cell.2018.03.076, 0092-8674
Read article
T. Keeley, R. Siow, R. Jacob and G. Mann. A PP2A-mediated feedback mechanism controls Ca2+-dependent NO synthesis under physiological oxygen. The FASEB Journal, 2017, 10.1096/fj.201700211R
Read article
A. Sabine, E. Bovay, C.S. Demir, et al. FOXC2 and fluid shear stress stabilize postnatal lymphatic vasculature. The Journal of Clinical Investigation, 2015, 10.1172/JCI80454
Read article
Find more publications in the ibidi Reference Database.