ibidi Products for this Application
Find more products for this application here.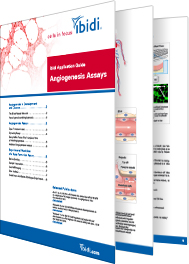 Application Guide
Download the "Angiogenesis" Application Guide as a PDF here.
Selected Publications
Azad T, et al. (2018) A LATS biosensor screen identifies VEGFR as a regulator of the Hippo pathway in angiogenesis. Nat Commun 9(1):1061.
read abstract
Staresinic B, et al. (2018) Effect of calcium electroporation on tumour vasculature. Sci Rep 8(1):9412.
read abstract
Yoshitomi Y, et al. (2017) JunB regulates angiogenesis and neurovascular parallel alignment in mouse embryonic skin. J Cell Sci 130(5):916–926.
read abstract
Find more publications in the ibidi Reference Database.