ibidi Products for this Application
Find more products for this application here.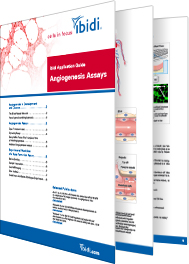 Application Guide
Download the "Angiogenesis" Application Guide as a PDF here.
Selected Publications
Hunter EJ, Hamaia SW, Kim PS, Malcor JM, Farndale RW. The effects of inhibition and siRNA knockdown of collagen-binding integrins on human umbilical vein endothelial cell migration and tube formation. Sci Rep. 2022;12(1):21601. 10.1038/s41598-022-25937-1.
Read article
Xie Y, Mansouri M, Rizk A, Berger P. Regulation of VEGFR2 trafficking and signaling by Rab GTPase-activating proteins. Sci Rep. 2019;9(1):13342. 10.1038/s41598-019-49646-4.
Read article
Almeria C, Weiss R, Roy M, et al. Hypoxia Conditioned Mesenchymal Stem Cell-Derived Extracellular Vesicles Induce Increased Vascular Tube Formation in vitro. Front Bioeng Biotechnol. 2019;7:292. doi:10.3389/fbioe.2019.00292.
Read article
Find more publications in the ibidi Reference Database.