International Cell Culture Under Flow Meeting 2020
February 18–19, 2020 | Biomedical Center Munich (BMC), Campus Martinsried
Please note: The number of participants for the "Cell Culture Under Flow" meeting is limited, so please register and submit your abstract by January 17, 2020.
Date:
February 18–19, 2020
Location:
Biomedical Center Munich (BMC), Campus Martinsried
Organizers:
Ludwig-Maximilians-University (LMU) Munich/BMC (Prof. Markus Sperandio)
ibidi GmbH, Munich (Dr. Roman Zantl)
Fee:
50 €
Contact:
E-mail:

[email protected]

| Phone: +49 89 520 46 17-0
Focus of the Meeting Confirmed Speakers Program How to Get There Payment Information
Young Scientist Award
Submit your abstract and win the ibidi Young Scientist Award!
The award will be handed over to the winner at the end of the meeting.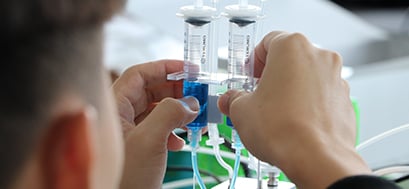 Optional Practical Workshop
Stay for an additional 2 days and get a hands-on training for cell culture under flow using the ibidi Pump System.
Limited to 8 participants.
Focus of the Meeting
The first international "Cell Culture Under Flow" meeting will bring together scientists from a variety of fields (e.g., vascular research, immunology, barrier function), who cultivate cells under shear stress.
Participants will have the chance to present their most recent work. In addition, both young and experienced scientists will have the opportunity to network and discuss future objectives of this field of research. Abstracts will be selected for oral presentation and posters.
Confirmed Speakers
Jaap van Buul (University of Amsterdam)
Steffen Dietzel (LMU Munich)
Roland Immler (LMU Munich)
Allan Kiprianos (Imperial College London)
Julia Mack (University of California, Los Angeles)
Henning Morawietz (University of Technology Dresden)
Jörg Renkawitz (LMU Munich)
Amélie Sabine (University of Lausanne)
Scott Simon (University of California, Davis)
Barbara Walzog (LMU Munich)
Program
Start: February 18, ca. 12:30 pm
End: February 19, ca. 3:00 pm
Four sessions will cover the following topics:
Cardiovascular diseases
Transendothelial and interstitial migration
Endothelial barrier function
Leucocyte recruitment under flow
The detailed program will be available soon.
How to Get There
Hotel Information
In Munich:
In Martinsried:
Payment Information
Once your participation has been confirmed, you will receive an invoice for the required registration fee of 50 €. This fee will cover entry to all sessions, as well as snacks during breaks.
PLEASE NOTE: Your registration is not valid or complete until this payment has been received, unless other arrangements have been made. There will be no refunds.
Copyright © 2019 ibidi GmbH. All rights reserved.
ibidi GmbH, Lochhamer Schlag 11, 82166 Gräfelfing, Germany
E: [email protected] T: +49 89 520 46 17-0 F: +49 89 520 46 17-59