Recorded Webinar

ECIS® Impedance Cell Biosensor
Are you looking for a non-invasive and label-free cell-based assay for monitoring in vitro cell behavior?
The Electric Cell-Substrate Impedance Sensing (ECIS®) technique allows you to electrically measure cell morphological changes. It provides quantitative, real-time data without interfering with your cells.
Watch our webinar to learn more about this powerful technique.
Webinar Outline
ECIS® is a well-established method used for cellular studies like cell-integrin interactions, metastatic invasion, receptor signal transduction, cell migration, and barrier function observation.
In this webinar, you will learn about the principle of ECIS®, and the physics behind impedance-based cell analysis. In addition, the webinar will show you practical examples of how ECIS applications are used, such as in automated wounding and in combination with flow. You will be surprised by how many options you have using ECIS!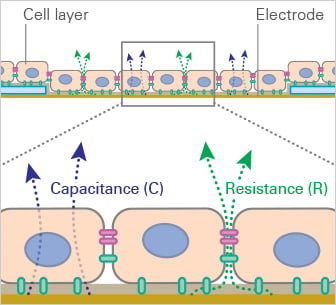 Find Out More
Please find more detailed information about impedance-based assays here.
Louise Ritter, ibidi Application Specialist
Louise studied Biomedicine at the University of Southern Denmark where she was part of the Neurobiology Group at the Institute of Molecular Medicine. After graduation in 2019, she started working in the R&D department of ibidi GmbH. In September 2021, she joined the sales team as an Application Specialist to support our customers worldwide with her broad experience in cell culture, cultivating cells under flow, live cell imaging, and microscopy.