ibidi Online Courses
ibidi Online Course:
Setup and Analysis of Chemotaxis Assays
Course Objectives
The aim of this online course is to instruct participants in the experimental setup and analysis of 2D and 3D chemotaxis assays with the ibidi µ-Slide Chemotaxis.
You will learn how to conduct a chemotaxis experiment from start to finish, including the handling of the slide, 3D gel preparation, live cell imaging, single cell tracking, and data analysis. Also, characteristic parameters of directed and undirected cell migration will be evaluated.
In addition to theory, we will include practical hands-on sessions on slide handling and single cell tracking.
You will also have the opportunity to interact with the ibidi experts to learn tips and tricks that can help you with your own experiments.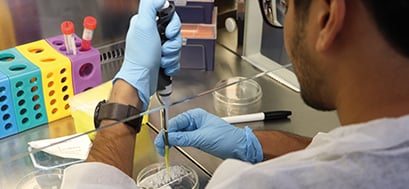 Registration
There is no online course scheduled at the moment. Please visit again later.
Requirements for participating in the course:
computer or laptop with computer mouse (no mobile device)
web camera and microphone
pipets (20 µl and 200 µl)
To prepare for the pipetting session, you will receive a package with µ-Slides Chemotaxis, pipet tips, and food coloring in advance of the course date.
Target Group
The course is intended for scientists and technical associates who have experience with cell culture and sterile working techniques, and who want to establish chemotaxis experiments with the ibidi µ-Slide Chemotaxis.
Schedule
Day 1 – Start: 11:00 am CET
Topics
Introduction to chemotaxis and cell migration
Hands-on: Handling of the µ-Slide Chemotaxis
Setup of a chemotaxis experiment in 2D and 3D in the lab: Tips & Tricks
Live cell imaging
End: 3:00 pm CET (breaks included)
Day 2 – Start: 11:00 am CET
Topics
Evaluation and analysis of chemotaxis assays
Hands-on: Manual Single Cell Tracking and Data Analysis
Sample experiments and experimental optimization
End: 3:00 pm CET (breaks included)