ibidi Practical Course:
Setup and Analysis of Chemotaxis Assays
"Thanks for providing such a great practical course on chemotaxis assays. I have subsequently been successful in optimizing a chemotaxis protocol for THP-1 immune cells! I am sure I never would have managed to set up this experiment at all without your help."
Emily Lynes, German Centre for Neuro-degenerative Diseases, Tübingen, Germany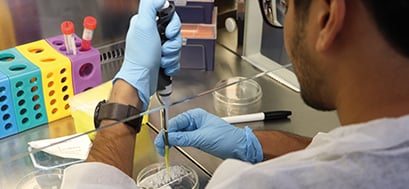 Course Objectives
The aim of this hands-on course is to learn about the experimental setup and analysis of 2D and 3D chemotaxis assays with the ibidi µ-Slide Chemotaxis. In addition to practicing handling the slide, you will also perform a whole chemotaxis assay that includes sample preparation with cancer cells, live cell imaging, single cell tracking, and data analysis. Also, characteristic parameters of directed and undirected cell migration will be evaluated. During the two-day training, our experts will give you tips and tricks that will be helpful with your own experiments.
Target Group
The course is intended for scientists and technical associates, who have extensive experience with cell culture and sterile working techniques, and want to establish chemotaxis experiments with the ibidi µ-Slide Chemotaxis.
Course Dates
Due to the COVID-19 pandemic, no practical courses will take place in 2020.
Day 1 – Start: 10:00 am
Topics
Introduction to chemotaxis and cell migration
Hands-on: Handling of ibidi µ-Slide Chemotaxis
Hands-on: Setup of 2D and 3D chemotaxis assays
End: ca. 5:30 pm
Lunch is included on both days.
Day 2 – Start: 9:00 am
Topics
Live cell imaging
Evaluation and analysis of chemotaxis assays
Hands-on: Single cell tracking and data analysis
(bring your laptop and a computer mouse!)
End: ca. 4:00 pm