Correlative Light and Electron Microscopy (CLEM)
CLEM correlates the molecular specificity of light microscopy with the high structural resolution of electron microscopy. ibidi products help to bridge the two worlds of light and electron microscopy.
When using the µ-Slide CorrSight™ Live, live cell imaging, fixation, contrasting, and embedding are all achieved on one slide. Each numbered well contains a grid with a 100 µm repeat distance; the grid is clearly visible in phase contrast and electron microscopy.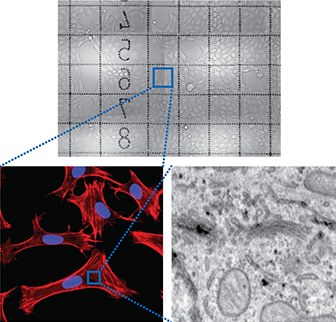 ibidi Products used for this Application: