Life Science Company ibidi Celebrates 20 Years of Innovation
Published : 03/10/2021 12:19:49
Categories : Press
>> Pressemitteilung auf Deutsch lesen
Munich, Germany, March 10, 2021 – How does a company achieve success in a competitive market like Life Science? ibidi GmbH describes their journey, growth, culture, and the secrets to that success in a special addition to their website: ibidi.com/celebrate
Learn how it all started with a 1999 Munich Business Plan Competition, which gave birth to the idea of commercialized, special microcopy chambers for the cultivation and visualization of cells. In 2001, a new company, ibidi, was spun off from the Technische Universität Munich (TUM) and the Center for Nanoscience (CENS) of the Ludwig-Maximilians-Universität Munich (LMU).
Today, ibidi is a medium-sized company with: headquarters in Munich (Germany) and Madison, Wisconsin (USA), a strong network of global distribution partners, over 500 products, and more than 40,000 customers worldwide. Within two decades, ibidi has succeeded in becoming the world's leading provider of products for cell-based microscopy assays.
"It is our mission to provide scientists with tools that facilitate their daily research routine by enabling the standardization and reproducibility of experiments," explains Dr. Roman Zantl, Founder, CEO, and Head of Research & Development. "Thus, we contribute to a better understanding of the underlying mechanisms of cancer and cardiovascular and autoimmune diseases, which can lead to the development of effective therapies."
New innovations that help advance biomedical research will continue to be the focus of ibidi going into the future. In 2021, ibidi plans to launch their Micropatterning product family, which has a breakthrough technology that enables the spatially precise attachment of cells to slides and microscopy chambers for various cell-based applications in 2D and 3D. In addition, ibidi is involved in numerous pioneering research projects, including 3D cell culture and bioprinting. These types of collaborative efforts promote the cooperation between university research groups and industry, in order to continue translating scientific discoveries into creative products.
About ibidi GmbH – ibidi.com
ibidi GmbH, located in Gräfelfing near Munich, Germany, is a leading supplier of functional cell-based assays and products for cell microscopy. The ibidi range of products offers solutions for classic cell culturing, and also complex assays (e.g., angiogenesis, chemotaxis, and wound healing). Their products help facilitate an understanding of the development of various diseases and related therapies. ibidi's customers are working in scientific institutions, industrial pharmacology, and biotechnology. Technology development at ibidi is supported by the BMBF (Bundesministerium für Bildung und Forschung). The products are sold to customers worldwide.
Image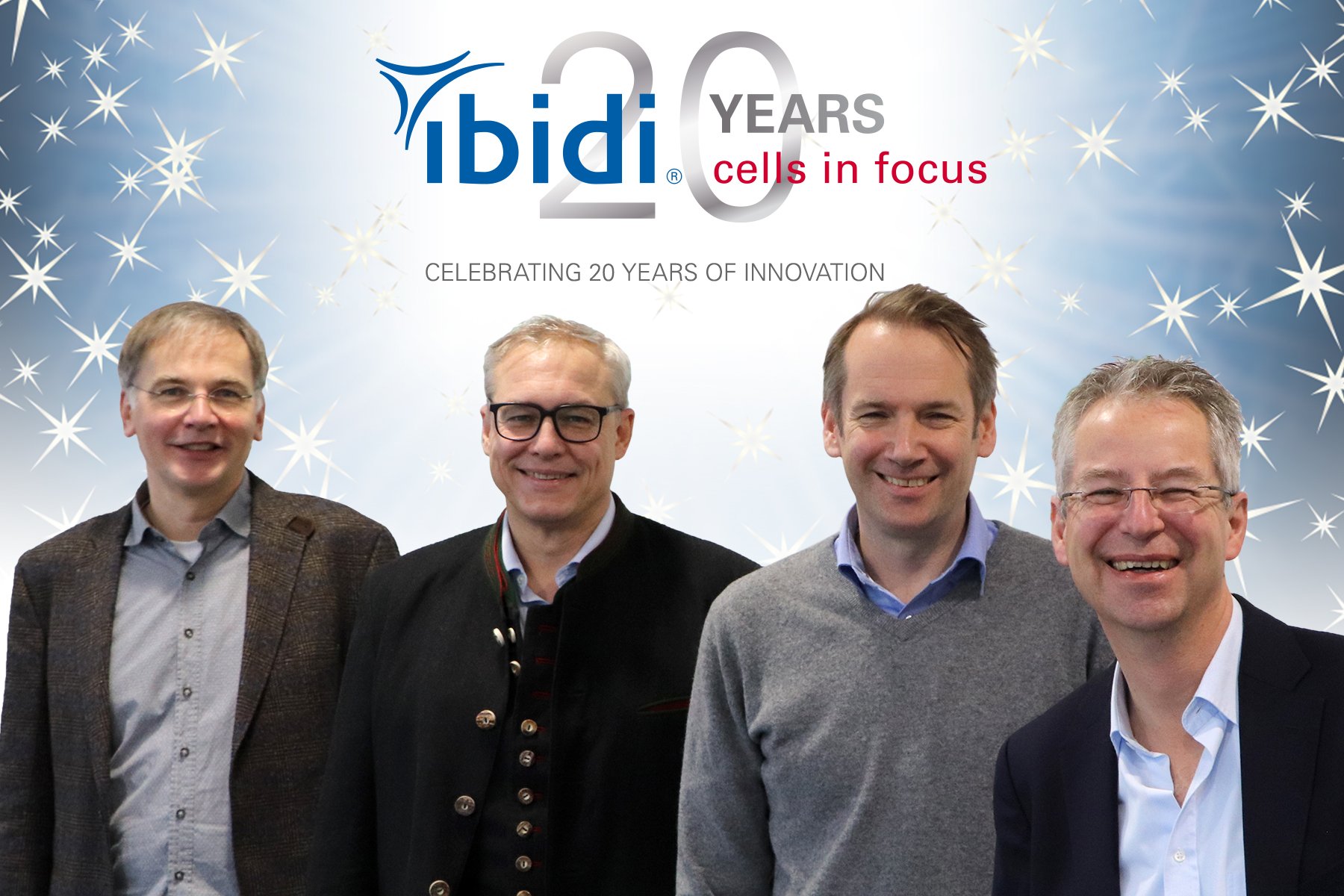 https://ibidi.com/img/cms/about_us/press/ibidi_PR_2021_03_20_Years_of_Innovation.jpg
Archive image of the ibidi GmbH founders
From left to right: Prof. Dr. Joachim Rädler (Board Member), Dr. Roman Zantl (CEO), Dr. Valentin Kahl (CEO), Dr. Ulf Rädler (Director of Business Development)
Contact Details
Dr. Susanne Seifert
ibidi GmbH
Lochhamer Schlag 11
82166 Gräfelfing
Tel.: +49 89 520 46 17 34
[email protected]

Das Life Science Unternehmen ibidi feiert 20 Jahre Innovation
München, Deutschland, 10. März 2021 – Wie schafft es ein Unternehmen, in einem umkämpften Markt wie dem der Life Science Branche erfolgreich zu sein?
Die ibidi GmbH feiert in diesem Jahr 20-jähriges Bestehen und veröffentlicht zum Jahrestag eine eigene Jubiläums-Webseite mit Einblicken in die Unternehmensgeschichte, Firmenkultur und ihre Erfolgsgeheimnisse: ibidi.com/celebrate.
Alles begann 1999 mit der Teilnahme am Münchner Business Plan Wettbewerb und der Idee, spezielle Zellkammern zur Kultivierung und Visualisierung von Zellen zu kommerzialisieren. 2001 wurde ibidi offiziell aus der Technischen Universität München (TUM) und dem Center for Nanoscience (CENS) der Ludwig-Maximilians-Universität München (LMU) ausgegründet.
Heute ist ibidi ein mittelständisches Unternehmen mit Firmensitzen in München und Madison (USA), globalen Distributionspartnern, über 500 Produkten und mehr als 40.000 Kunden weltweit. Innerhalb von zwei Jahrzenten gelang es ibidi, zum weltweit führenden Anbieter von Produkten für zellbasierte Mikroskopie-Assays zu werden.
"Es ist unsere Mission, Wissenschaftlern Werkzeuge an die Hand zu geben, die ihnen ihren Forscheralltag erleichtern, indem sie die Standardisierung und Reproduzierbarkeit von Experimenten ermöglichen", erklärt Dr. Roman Zantl, Gründer, Geschäftsführer und Leiter der Forschungs- & Entwicklungsabteilung. "Somit tragen wir dazu bei, dass die zugrundeliegenden Mechanismen von Krebs, Herz-Kreislauf- und Autoimmunerkrankungen besser verstanden und wirksame Therapien entwickelt werden können."
Neue Innovationen, welche die biomedizinische Forschung weiter voranbringen, stehen auch in Zukunft im Mittelpunkt der ibidi GmbH. So ist für das Jubiläumsjahr die Einführung der Micropatterning Produktfamilie geplant. Die bahnbrechende Technologie, die den Produkten zu Grunde liegt, ermöglicht ein räumlich präzises Anheften von Zellen auf Objektträgern und Mikroskopiekammern für zahlreiche zellbasierte Anwendungen in 2D und 3D.
Zudem ist ibidi in zahlreichen zukunftsweisenden Forschungsprojekten involviert. Ein Fokus liegt hierbei auf 3D Zellkultur und Bioprinting. Damit wird die Zusammenarbeit von universitären Arbeitsgruppen und der Industrie gefördert, um wissenschaftliche Entdeckungen auch weiterhin in kreative Produkte zu überführen.
Über die ibidi GmbH – www.ibidi.com
Die ibidi GmbH, München, ist ein führender Anbieter funktioneller zellbasierter Assays sowie von Produkten für die Zellmikroskopie. Die umfangreiche Reihe von Produkten bietet Lösungen für die klassische Zellkultur sowie für komplexe Assays wie z.B. Angiogenese, Chemotaxis oder Wundheilung. Durch die Produkte von ibidi wird das Verständnis von Entstehung und Behandlung unterschiedlicher Krankheiten erleichtert. Die Kunden von ibidi arbeiten weltweit in Forschungseinrichtungen, in der forschenden Pharmaindustrie und der Biotechnologie. Der Vertrieb der Produkte erfolgt weltweit.
Bild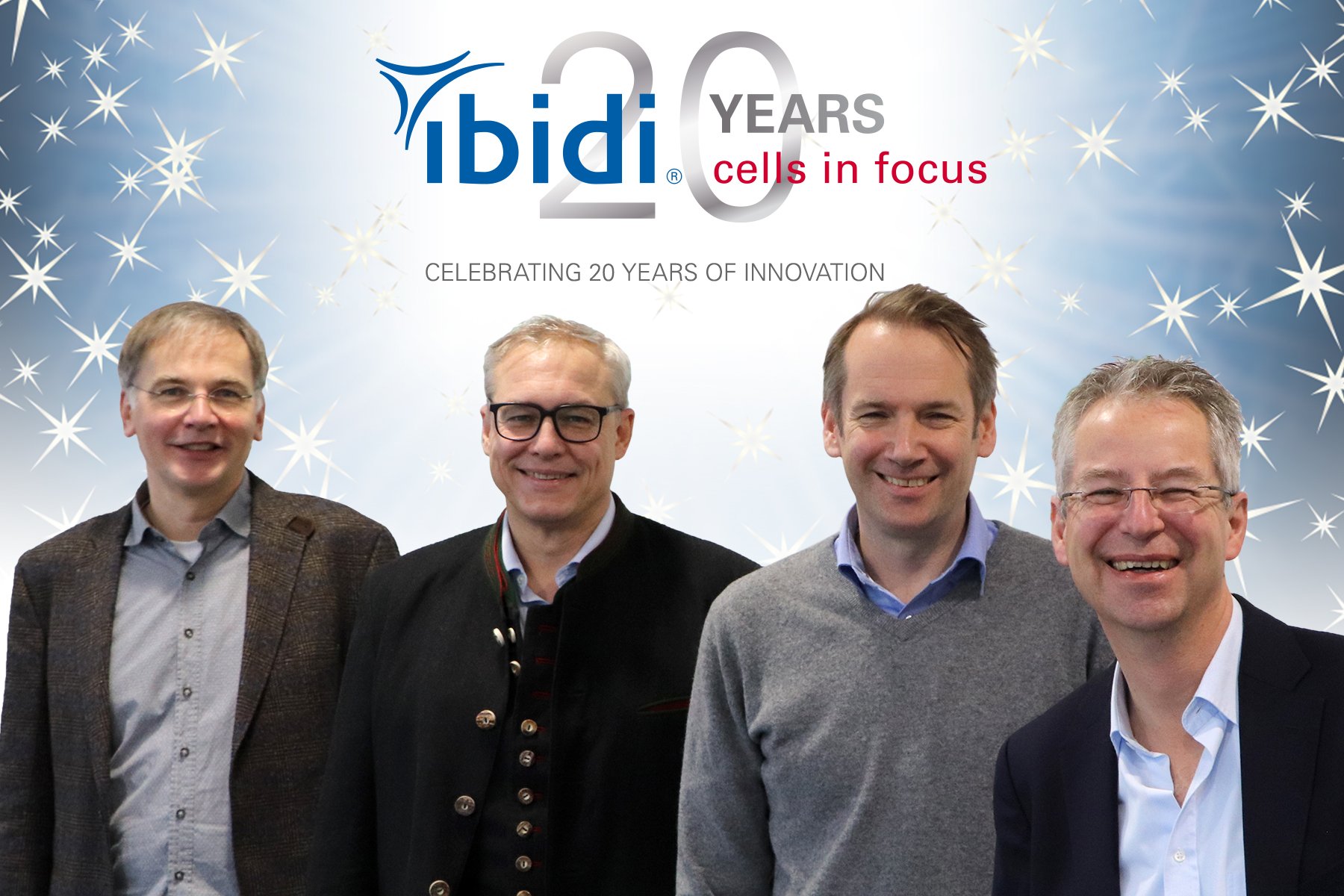 https://ibidi.com/img/cms/about_us/press/ibidi_PR_2021_03_20_Years_of_Innovation.jpg
Archivfoto der ibidi Firmengründer
Von links nach rechts: Prof. Dr. Joachim Rädler (Beirat), Dr. Roman Zantl (Geschäftsführer ibidi GmbH), Dr. Valentin Kahl (Geschäftsführer ibidi GmbH), Dr. Ulf Rädler (Leiter Business Development ibidi GmbH)
Um weitere Informationen zu erhalten kontaktieren Sie bitte:
Dr. Susanne Seifert
ibidi GmbH
Lochhamer Schlag 11
82166 Gräfelfing
Tel.: +49 89 520 46 17 34
[email protected]