Innovative Through Research – ibidi awarded with Seal of Quality
Published : 07/30/2014 20:52:43
Categories : Press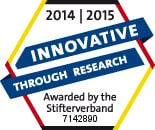 Munich, Germany, July 30, 2014 – The German "Stifterverband", an association that promotes science and education in Germany, has awarded ibidi GmbH with their seal of quality for the company's ongoing and focused commitment to research and development!
ibidi, the leading expert in functional cell-based assays, participates in a vast number of research projects and works with academic institutes to provide innovative solutions for customers. Since ibidi was founded, research and development have been the core part of the company that drives continuous product optimization and the development of new applications.
2014 is the first year that the German Stifterverband has awarded the "Innovative Through Research" prize. They asked companiesto outline their research and development activities for 2013 as well as their strategies and goals for the upcoming years. The BMBF (Bundesministerium für Bildung und Forschung) also supported this survey.
With this award, ibidi now belongs to the small, but significant circle of about 25,000 companies throughout Germany (out of 3.5 million companies in total) which create innovation and growth through their research and development activities. "We are very proud to receive this award", says Dr. Roman Zantl, President at ibidi GmbH. "The appreciation of ibidi's dedication to research is a great acknowledgement and also a stimulation for us to keep improving."
The Stifterverband is a business community initiative that advocates the long-term improvement of the German education and research landscape. In order to achieve this goal, the Stifterverband provides funding for universities and research institutes, supports talents, analyses the higher education system, and devises recommendations for policy and business.

Link to image:
../../img/cms/about_us/press/ibidi_pr_2014_07_Forschung_Entwicklung_EN.jpg
ibidi® GmbH, located in Martinsried near Munich, Germany, is a leading supplier of functional, cell-based assays, and products for cell microscopy. ibidi's range of products offers solutions for classic cell culturing, and also complex assays (e.g., angiogenesis, chemotaxis, and wound healing). Their products help facilitate an understanding of the development of various diseases and related therapies. ibidi's customers are working in scientific institutions, industrial pharmacology, and biotechnology. Technology development at ibidi is supported by the BMBF (Bundesministerium für Bildung und Forschung). The products are sold to customers worldwide.
Contact:

Dr. Susanne Seifert
ibidi GmbH
Am Klopferspitz 19
82152 Planegg / Martinsried
Tel.: +49 89 520 46 17 34
[email protected]
---
"Innovativ durch Forschung" – ibidi ist ausgezeichnet
München, Deutschland, 30. Juli 2014 – Der Stifterverband für die Deutsche Wissenschaft hat ibidis besonderes Forschungs- und Entwicklungsengagement mit seinem Gütesiegel ausgezeichnet!
Als Experte auf dem Gebiet der funktionalen zellbasierten Assays beteiligt sich ibidi an Forschungsprojekten und arbeitet mit Hochschulinstituten an innovativen Lösungen für seine Kunden. Seit der Gründung der ibidi GmbH nimmt der Bereich Forschung und Entwicklung eine zentrale Stellung im Unternehmen ein. Die Ziele sind dabei die kontinuierliche Optimierung der Produkte und die Erschließung neuer Anwendungen.
Der Stifterverband für die Deutsche Wissenschaft vergibt 2014 zum ersten Mal die Auszeichnung "Innovativ durch Forschung". Er fragte Unternehmen nach dem Einsatz von Forschung und Entwicklung im Jahr 2013 und der Planung für die Folgejahre. Das Bundesministerium für Bildung und Forschung unterstützt die Erhebung.
Mit der Auszeichnung gehört ibidi zum kleinen, aber bedeutsamen Kreis der ca. 25.000 Unternehmen in Deutschland (von insgesamt 3,5 Mio. Unternehmen), die mit ihren Forschungs- und Entwicklungsaktivitäten Innovation und Wachstum schaffen.
"Die Auszeichnung "Innovativ durch Forschung" macht uns sehr stolz", kommentiert Dr. Roman Zantl, Geschäftsführer der ibidi GmbH. "Die positive Würdigung von ibidis Forschungseinsatz ist Bestätigung und zugleich Ansporn für weiteren Fortschritt."
Der Stifterverband ist eine Gemeinschaftsinitiative der Wirtschaft. Er tritt dafür ein, die deutsche Bildungs- und Forschungslandschaft nachhaltig zu verbessern. Um dieses Ziel zu erreichen, fördert der Stifterverband Hochschulen und Forschungsinstitute, unterstützt akademischen Nachwuchs, analysiert das Wissenschaftssystem und leitet daraus Empfehlungen für Politik und Wirtschaft ab. Die Ergebnisse der F&E-Umfrage fließen zum Beispiel in den Bundesbericht "Forschung und Innovation" ein und dienen der Bundesregierung als Entscheidungsgrundlage. Die Daten werden außerdem für die entsprechenden Auswertungen der EU und der OECD verwendet.
Link zum Bild:
../../img/cms/about_us/press/ibidi_pr_2014_07_Forschung_Entwicklung_DE.jpg
Die ibidi® GmbH, München, ist ein führender Anbieter funktioneller zellbasierter Assays sowie von Produkten für die Zellmikroskopie. Die umfangreiche Reihe von Produkten bietet Lösungen für die klassische Zellkultur sowie für komplexe Assays wie z.B. Angiogenese, Chemotaxis oder Wundheilung. Durch die Produkte von ibidi wird das Verständnis von Entstehung und Behandlung unterschiedlicher Krankheiten erleichtert. Die Kunden von ibidi arbeiten weltweit in Forschungseinrichtungen, in der forschenden Pharmaindustrie und der Biotechnologie. Die Technologie von ibidi wird in zahlreichen BMBF-Projekten gefördert. Der Vertrieb der Produkte erfolgt weltweit.
Pressekontakt:
Dr. Susanne Seifert
ibidi GmbH
Am Klopferspitz 19
82152 Planegg / Martinsried
Tel.: +49 89 520 46 17 34
[email protected]