ibidi Product News: Speed up Your Workflow with ACAS Automated Image Analysis
Published : 10/19/2017 10:39:33
Categories : Press
>> Pressemitteilung auf Deutsch lesen
Munich, Germany, October 19, 2017 – ibidi introduces a fast, new web-based tool, ACAS (Automated Cellular Analysis System), which offers extremely quick and reliable analysis of wound healing and angiogenesis assays. This lean and efficient software is the latest addition to ibidi's already innovative product portfolio, which covers the whole assay workflow—from sample preparation to analysis.
The ACAS principle is easy: Researchers simply upload their microscopy data to their personal ACAS account and start the analysis job. Within minutes, they will receive a detailed report for download and further evaluation. As a clear advantage over other analysis tools, ACAS equally evaluates different data formats such as images, image stacks, and videos. In addition, every ACAS customer will receive 15 high-quality image analysis jobs every month for free.
Using ACAS, researchers will save hundreds of hours of manual image analysis, which will greatly increase experimental throughput. Easy and rapid data processing, as well as objective and reproducible results, make ACAS a powerful and cost-saving tool for wound healing, cell migration, and tube formation assays.
Image: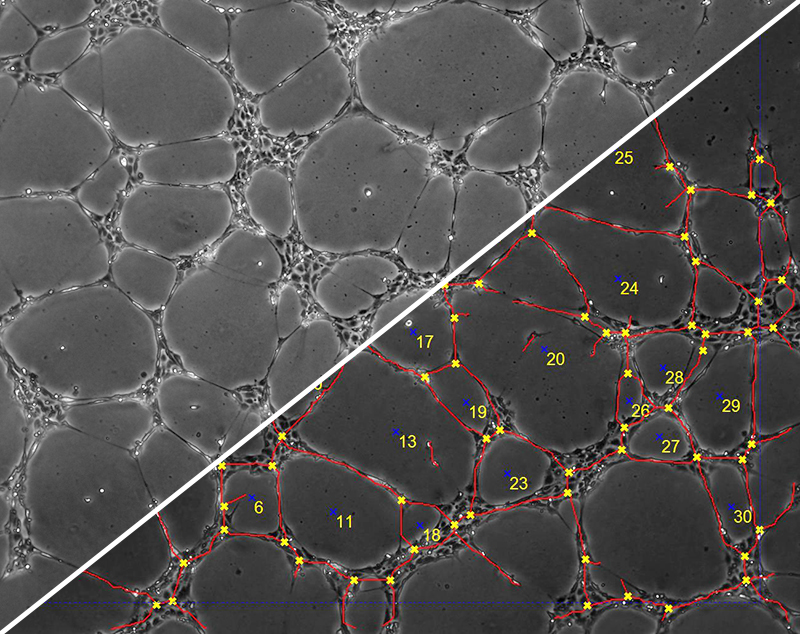 https://www.ibidi.com/img/cms/about_us/press/ibidi_pr_2017_09_ACAS_TubeFormation.jpg
Contact Details:
ibidi GmbH
Am Klopferspitz 19
82152 Planegg/Martinsried
Germany
Phone: +49 89-520 46 17-0
Fax: +49 89-520 46 17-59
[email protected]
www.ibidi.de

ibidi Produktneuheit:
ACAS – Automatische Bildanalyse für zellbasierte Assays
München, Deutschland, 19. Oktober 2017 – ibidi präsentiert mit ACAS (Automated Cellular Analysis System) ein neues, webbasiertes Tool zur schnellen und genauen Analyse von Wundheilungs- und Angiogenese-Assays. Die schlanke und effiziente Software rundet das ibidi Produktportfolio perfekt ab, so dass der komplette Workflow – von der Zellaussaat bis zur Analyse – abgedeckt wird.
Das ACAS-Prinzip ist einfach: Nach Upload der Mikroskopie-Daten auf den eigenen Account und Starten des Analysis-Jobs steht bereits nach wenigen Minuten ein detaillierter Report zum Herunterladen für weitere Auswertungen bereit. Der besondere Vorteil von ACAS gegenüber anderer Analyse-Software: Sowohl Einzelbilder als auch Stacks und Videos können gleichermaßen bearbeitet werden. Zum einfachen Einstieg werden jedem Nutzer monatlich 15 hochqualitative Analysen kostenlos bereitgestellt.
Durch die Verwendung von ACAS können Wissenschaftler hunderte Stunden der manuellen Bildanalyse einsparen und somit ihren experimentellen Durchsatz stark erhöhen. Die einfache Bedienung, eine schnelle Datenprozessierung sowie die Objektivität und Reproduzierbarkeit der Ergebnisse machen ACAS zu einem wertvollen Werkzeug für die Analyse von Wundheilungs-, Zellmigrations- und Angiogenese-Assays.
Bild: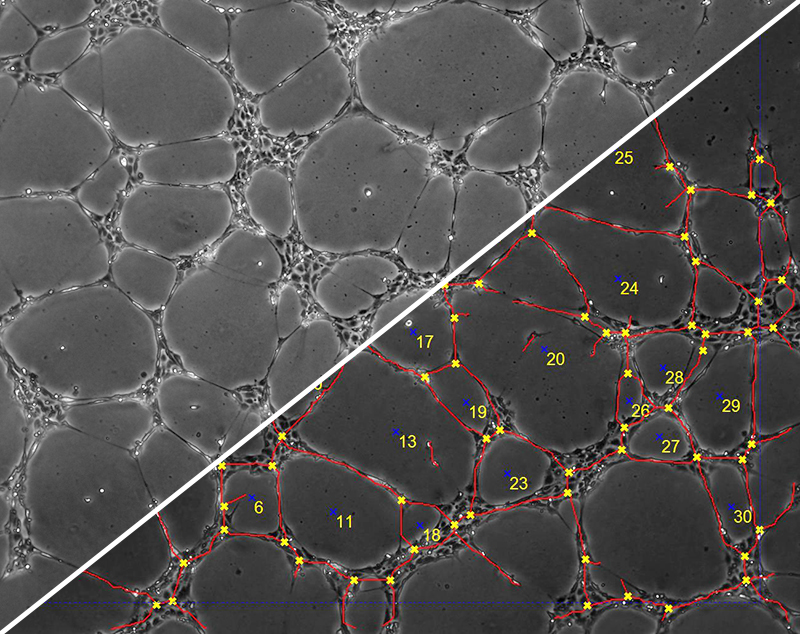 https://www.ibidi.com/img/cms/about_us/press/ibidi_pr_2017_09_ACAS_TubeFormation.jpg
Kontaktadresse:
ibidi GmbH
Am Klopferspitz 19
82152 Planegg/Martinsried
Tel.: +49 89-520 46 17-0
Fax: +49 89-520 46 17-59
[email protected]
www.ibidi.de