ibidi Product News: No Adhesion of Suspension Cells and Spheroids—the New Bioinert µ-Slides
Published : 09/01/2021 07:57:14
Categories : Press
>> Pressemitteilung auf Deutsch lesen
Munich, Germany, September 1, 2021 – A surface with 100% passivation: The completely non-adhesive Bioinert surface is now available in a range of ibidi's most requested µ-Slides, including the µ-Slide 8 Well high.
The Bioinert surface is a thin polyol hydrogel layer that is covalently bound to the ibidi Polymer Coverslip Bottom of the µ-Slide. It does not allow binding of any cells or biomolecules, which makes it superior to standard ultra-low attachment (ULA) products. The stable passivation is maintained for days, or even weeks, which is especially important during long-term experiments. Furthermore, high-resolution microscopy is guaranteed with the flat, thin bottom material and the excellent optical properties of the ibidi Polymer Coverslip.
The ready-to-use Bioinert products combine the highest optical quality with complete surface passivation. They are the ideal solution for all researchers who want to culture cells or cell aggregates without any adhesion to the surface (e.g., suspension cells, spheroids, and embryoid bodies). For controlled cell adhesion, ibidi has also recently launched µ-Slides with µ-Patterns, which have defined adhesion spots surrounded by Bioinert. Adherent cells from a suspension are caught by these spots, leading to spatially controlled cell adhesion.
The Bioinert surface is available in various open well slide formats, channel slides, and dishes. Scientists, who would like to test the Bioinert products with their own experiments, can get samples at ibidi.com/bioinert.
About ibidi GmbH – ibidi.com
ibidi GmbH, located in Gräfelfing near Munich, Germany, is a leading supplier of functional cell-based assays and products for cell microscopy. The ibidi range of products offers solutions for classic cell culturing, and also complex assays (e.g., angiogenesis, chemotaxis, and wound healing). Their products help facilitate an understanding of the development of various diseases and related therapies. ibidi's customers are working in scientific institutions, industrial pharmacology, and biotechnology. Technology development at ibidi is supported by the BMBF (Bundesministerium für Bildung und Forschung). The products are sold to customers worldwide.
Image: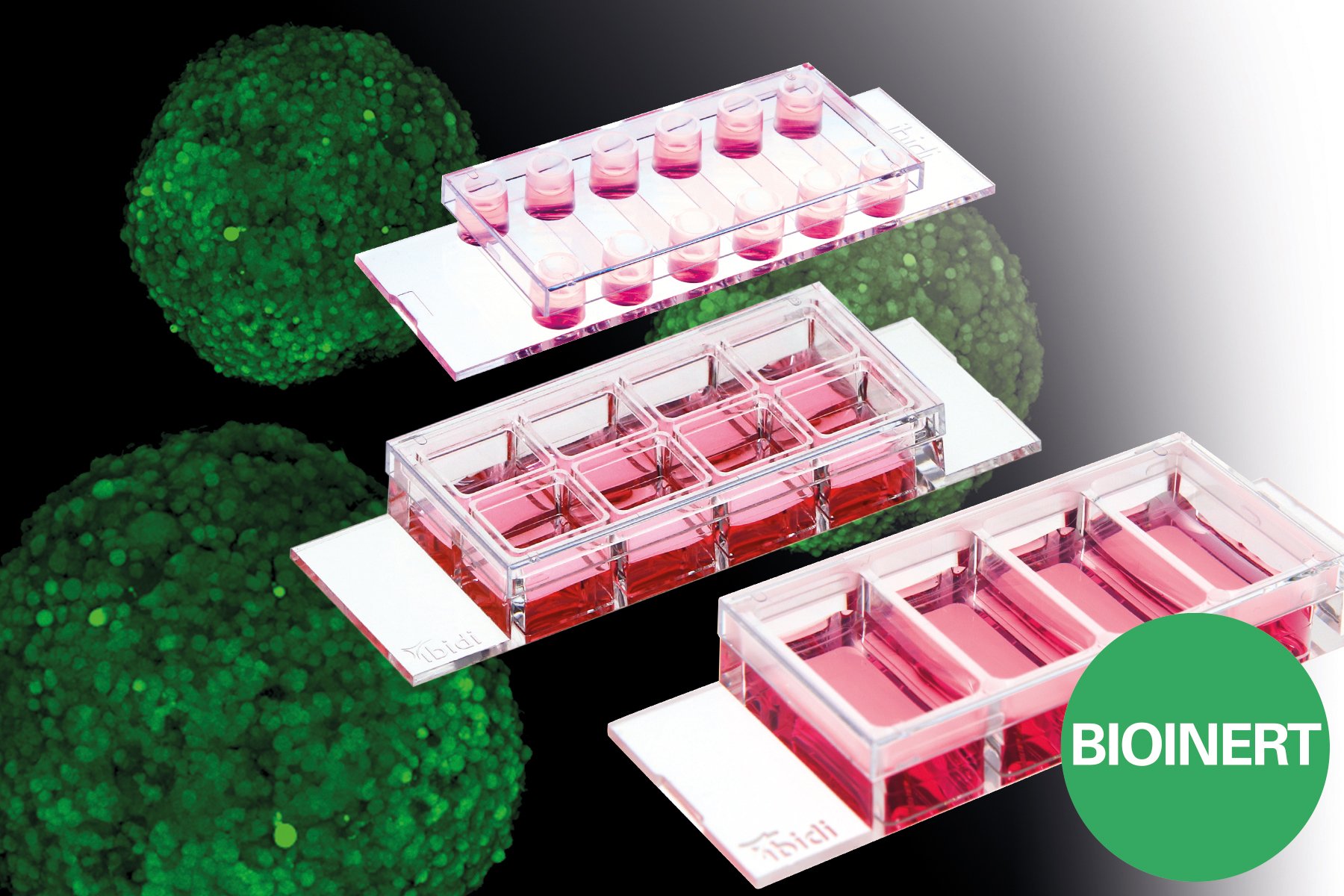 https://ibidi.com/img/cms/about_us/press/ibidi_PR_2021_09_Slides_Bioinert.jpg
For further information please contact:
Dr. Susanne Seifert
ibidi GmbH
Lochhamer Schlag 11
82166 Gräfelfing
Tel.: +49 89 520 46 17 34
[email protected]
https://ibidi.com


ibidi Produktneuheit:
Keine Adhäsion von Suspensionszellen und Sphäroiden – die neuen Bioinert µ-Slides
München, Deutschland, 1. September 2021– Eine Oberfläche mit 100 % Passivierung: Die vollständig nicht adhärente Bioinert-Oberfläche ist jetzt in den meistverkauften µ-Slides von ibidi erhältlich, einschließlich des µ-Slide 8 Well high.
Die Bioinert-Oberfläche ist eine dünne Polyol-Schicht, die kovalent an das ibidi Polymer Coverslip des µ-Slides gebunden ist. Sie erlaubt keinerlei Bindung von Zellen oder Biomolekülen und ist dadurch Standardprodukten mit "Ultra-Low-Attachment (ULA) Coatings" überlegen. Die stabile Passivierung bleibt über Tage oder sogar Wochen erhalten, was besonders bei Langzeitexperimenten wichtig ist. Darüber hinaus ist mit dem flachen, dünnen Bodenmaterial und den hervorragenden optischen Eigenschaften des ibidi Polymer Coverslips eine hochauflösende Mikroskopie garantiert.
Die gebrauchsfertigen Bioinert-Produkte vereinen höchste optische Qualität mit vollständiger Passivierung der Oberfläche. Sie sind die ideale Lösung für alle ForscherInnen, die Zellen oder Zellaggregate ohne Adhäsion kultivieren möchten (z.B. Suspensionszellen, Sphäroide und Embryoid Bodies). Für eine räumlich kontrollierte Zelladhäsion hat ibidi kürzlich auch µ-Slides mit µ-Patterns auf den Markt gebracht. Diese haben definierte, von Bioinert umgebene Adhäsions-Spots. Adhärente Einzelzellen aus einer Zellsuspension haften nur auf diesen Spots, was zu einer räumlich kontrollierten Zelladhäsion führt.
Die Bioinert-Oberfläche ist in verschiedenen Open-Well-Slides, Channel-Slides und Dishes erhältlich. WissenschaftlerInnen, die die Bioinert-Produkte mit eigenen Experimenten testen möchten, können unter ibidi.com/bioinert Muster bestellen.
Über die ibidi GmbH – ibidi.com
Die ibidi GmbH, München, ist ein führender Anbieter funktioneller zellbasierter Assays sowie von Produkten für die Zellmikroskopie. Die umfangreiche Reihe von Produkten bietet Lösungen für die klassische Zellkultur sowie für komplexe Assays wie z.B. Angiogenese, Chemotaxis oder Wundheilung. Durch die Produkte von ibidi wird das Verständnis von Entstehung und Behandlung unterschiedlicher Krankheiten erleichtert. Die Kunden von ibidi arbeiten weltweit in Forschungseinrichtungen, in der forschenden Pharmaindustrie und der Biotechnologie. Der Vertrieb der Produkte erfolgt weltweit.
Bild: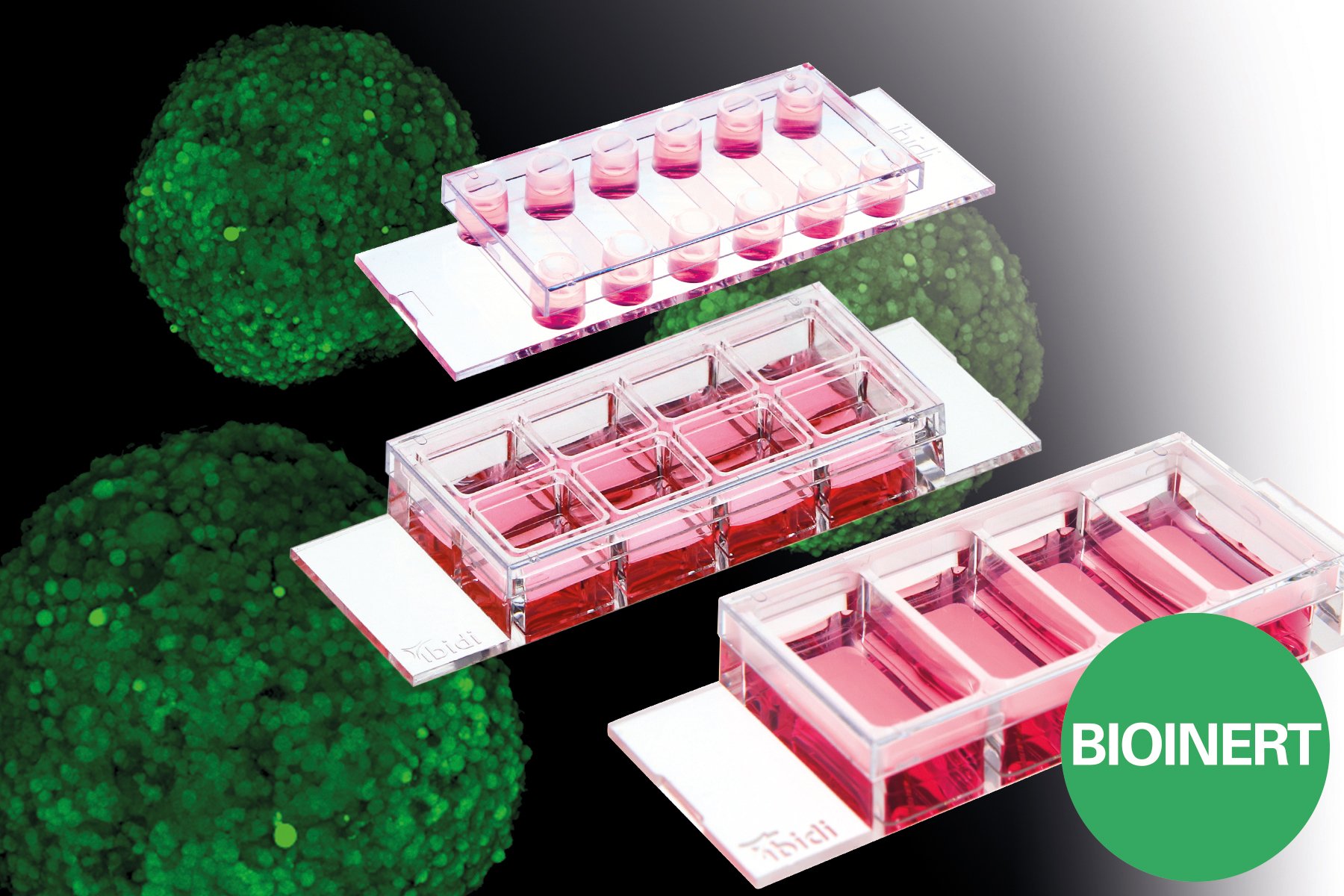 https://ibidi.com/img/cms/about_us/press/ibidi_PR_2021_09_Slides_Bioinert.jpg
Um weitere Informationen zu erhalten kontaktieren Sie bitte:
Dr. Susanne Seifert
ibidi GmbH
Lochhamer Schlag 11
82166 Gräfelfing
Tel.: +49 89 520 46 17 34
[email protected]
https://ibidi.com