ibidi Product News: Long-Term Spheroid Culture and High-Resolution Imaging
Published : 04/28/2021 11:35:17
Categories : Press
>> Pressemitteilung auf Deutsch lesen
Munich, Germany, April 28, 2021 – The µ-Slide Spheroid Perfusion is the latest, innovative flow chamber created by ibidi. It is ideal for the long-term culture and high-end microscopy of 3D cell aggregates, such as spheroids, organoids, or tissue. Throughout the whole experiment, perfusion guarantees a fresh medium supply to the cells.
The µ-Slide Spheroid Perfusion consists of 3 x 7 flat-bottomed wells that are connected through a channel above. Each well forms its own niche where the specimen is cultured. When applying perfusion through the channel, fresh medium continuously diffuses to the specimen. This ensures optimal nutrition and oxygen supply throughout the experiment without exposing the specimen to significant shear forces.
Spheroids can either be generated directly in the µ-Slide Spheroid Perfusion wells, or existing 3D cell aggregates—created with any protocol—can be transferred into the µ-Slide. After closing the wells, the channel is filled with culture medium, and the perfusion is started using the ibidi Pump System or any other cell culture pump. The samples are observed through the thin ibidi Polymer Coverslip bottom, which has the highest optical quality (comparable to glass), and is ideally suited for high-resolution microscopy.
This experimental setup guarantees maximum viability, but with minimum shear stress for spheroids, organoids, or tissue, and it makes the µ-Slide Spheroid Perfusion ideal for a large variety of cell types and applications. Scientists who would like to test this new product with their own experiments can get free samples at: ibidi.com/slide-spheroid-perfusion.
About ibidi GmbH – ibidi.com
ibidi GmbH, located in Gräfelfing near Munich, Germany, is a leading supplier of functional cell-based assays and products for cell microscopy. The ibidi range of products offers solutions for classic cell culturing, and also complex assays (e.g., angiogenesis, chemotaxis, and wound healing). Their products help facilitate an understanding of the development of various diseases and related therapies. ibidi's customers are working in scientific institutions, industrial pharmacology, and biotechnology. Technology development at ibidi is supported by the BMBF (Bundesministerium für Bildung und Forschung). The products are sold to customers worldwide.
Image: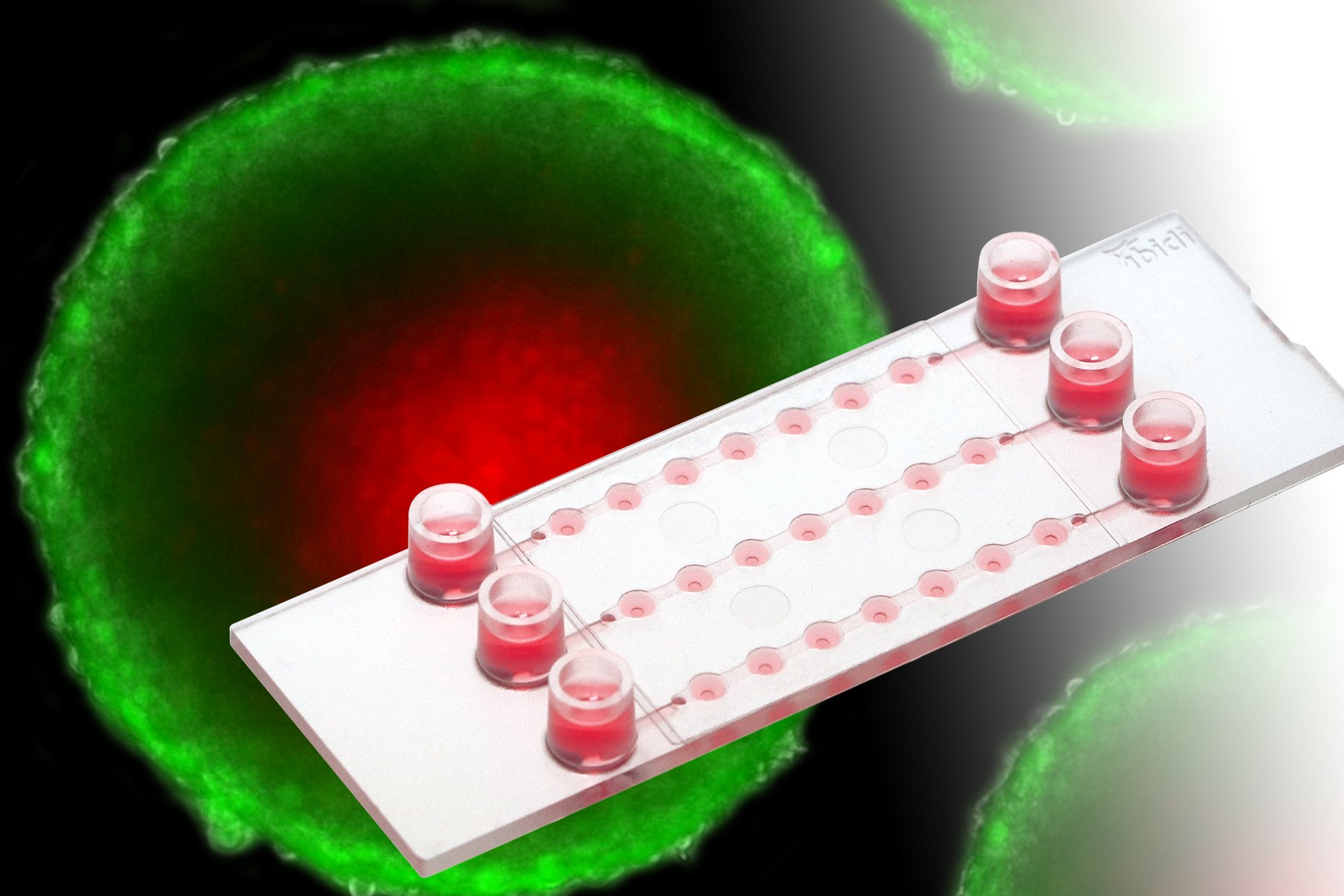 https://ibidi.com/img/cms/about_us/press/ibidi_PR_2021_04_Slide_Spheroid_Perfusion.jpg
For further information please contact:
Dr. Susanne Seifert
ibidi GmbH
Lochhamer Schlag 11
82166 Gräfelfing
Tel.: +49 89 520 46 17 34
[email protected]
https://ibidi.com


ibidi Produktneuheit:
Langzeit-Sphäroidkultur und hochauflösende Mikroskopie
München, Deutschland, 28. April 2021– Das µ-Slide Spheroid Perfusion ist die neueste, innovative Durchflusskammer von ibidi. Es ist ideal für die Langzeitkultur und High-End-Mikroskopie von 3D-Zellaggregaten wie Sphäroiden, Organoiden oder Gewebe. Während des gesamten Experiments garantiert die Perfusion eine Versorgung der Zellen mit frischem Medium.
Das µ-Slide Spheroid Perfusion besteht aus 3 x 7 Wells mit flachem Boden, die über einen darüberliegenden Kanal verbunden sind. Jedes Well bildet eine eigene Nische, in der die Zellen kultiviert werden. Bei der Perfusion durch den Kanal diffundiert das frische Medium kontinuierlich zu den Zellen. Dies gewährleistet eine optimale Ernährung und Sauerstoffversorgung während des gesamten Experiments, ohne die Probe signifikanten Scherkräften auszusetzen.
Sphäroide können direkt im µ-Slide Spheroid Perfusion generiert werden. Alternativ können vorhandene 3D-Zellaggregate, die mit einem beliebigen Protokoll erstellt wurden, in das µ-Slide transferiert werden. Nach dem Schließen der Wells wird der Kanal mit Medium gefüllt und die Perfusion wird mithilfe des ibidi Pump Systems oder einer anderen Zellkulturpumpe gestartet. Die Proben werden durch den dünnen ibidi Polymer Coverslip-Boden mikroskopiert, der die höchste optische Qualität aufweist (vergleichbar mit Glas) und sich ideal für hochauflösendes Imaging eignet.
Dieser Versuchsaufbau garantiert maximale Lebensfähigkeit bei minimaler Scherbeanspruchung für Sphäroide, Organoide oder Gewebe und macht das µ-Slide Spheroid Perfusion ideal für eine Vielzahl von Zelltypen und Anwendungen. WissenschaftlerInnen, die dieses neue Produkt mit eigenen Experimenten testen möchten, erhalten kostenlose Proben unter: ibidi.com/slide-spheroid-perfusion.
Über die ibidi GmbH – ibidi.com
Die ibidi® GmbH, München, ist ein führender Anbieter funktioneller zellbasierter Assays sowie von Produkten für die Zellmikroskopie. Die umfangreiche Reihe von Produkten bietet Lösungen für die klassische Zellkultur sowie für komplexe Assays wie z.B. Angiogenese, Chemotaxis oder Wundheilung. Durch die Produkte von ibidi wird das Verständnis von Entstehung und Behandlung unterschiedlicher Krankheiten erleichtert. Die Kunden von ibidi arbeiten weltweit in Forschungseinrichtungen, in der forschenden Pharmaindustrie und der Biotechnologie. Der Vertrieb der Produkte erfolgt weltweit.
Bild: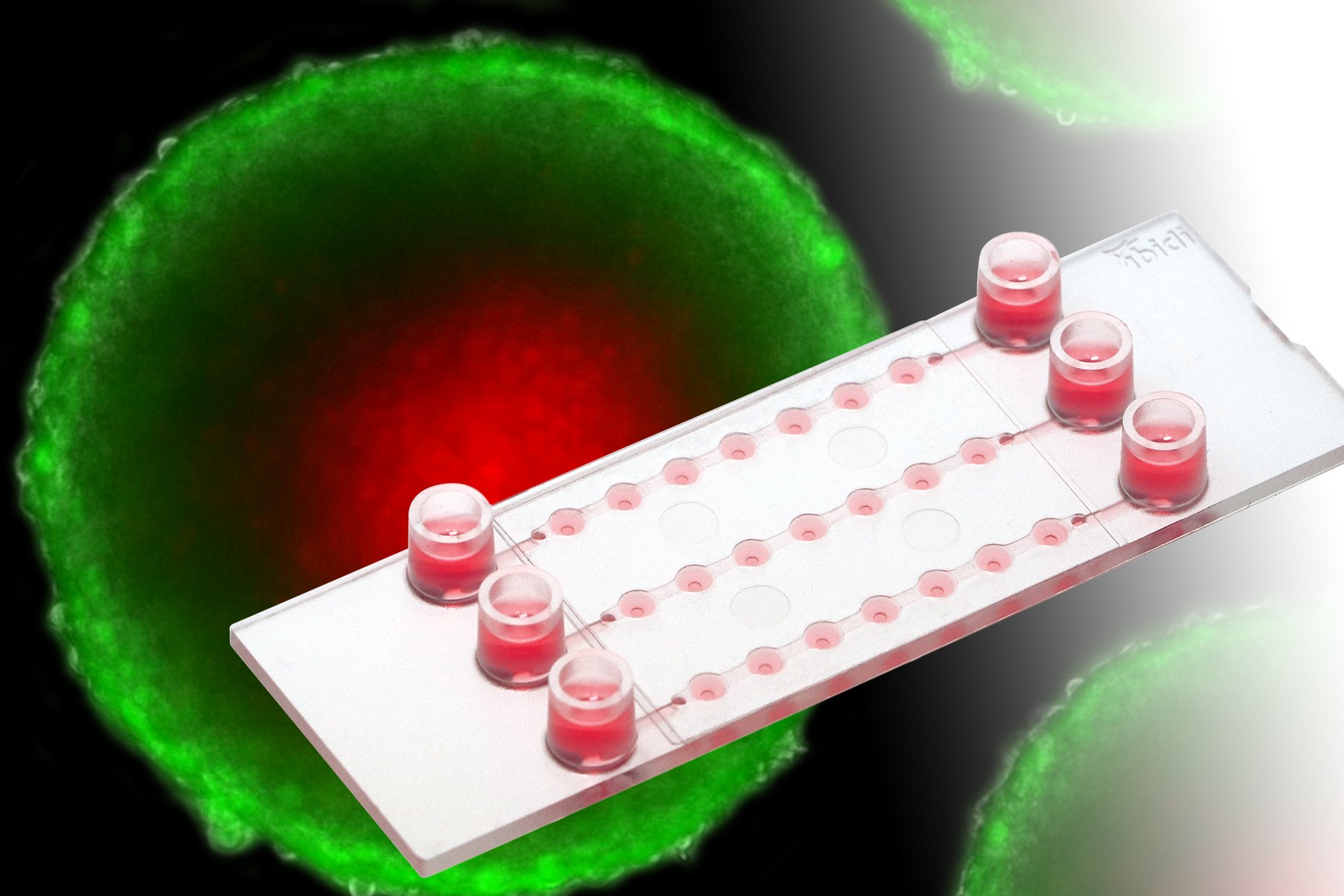 https://ibidi.com/img/cms/about_us/press/ibidi_PR_2021_04_Slide_Spheroid_Perfusion.jpg
Um weitere Informationen zu erhalten kontaktieren Sie bitte:
Dr. Susanne Seifert
ibidi GmbH
Lochhamer Schlag 11
82166 Gräfelfing
Tel.: +49 89 520 46 17 34
[email protected]
https://ibidi.com