ibidi Product News: Long-Term Culture and High-Resolution Microscopy of Spheroids and Suspension Cells in One Dish
Published : 05/03/2018 13:06:53
Categories : Press
>> Pressemitteilung auf Deutsch lesen
Munich, Germany, May 03, 2018 – The ibidi µ-Dish 35 mm, high Bioinert provides a completely new solution for all scientists who want to combine long-term culture and high-resolution microscopy of living spheroids or suspension cells in one single dish.
The Bioinert surface is a thin polyol hydrogel layer that is covalently bound to the ibidi Polymer Coverslip of the µ-Dish 35 mm, high. In contrast to standard ultra-low attachment (ULA) coatings, Bioinert is completely non-adherent and does not allow binding of any biomolecules or cells, even in long-term experiments. With this technology, Bioinert provides a stable passivation in cell-based assays for several days or even weeks. The flat, thin bottom material and the excellent optical properties of the ibidi Polymer Coverslip enable high-resolution microscopy without any disruptive autofluorescence.
The ready-to-use µ-Dish 35 mm, high Bioinert combines highest optical quality with 100% surface passivation. These features make this innovative product especially interesting for scientists who are investigating the cell-cell interactions of suspension cells, spheroids, and embryoid bodies.
Image: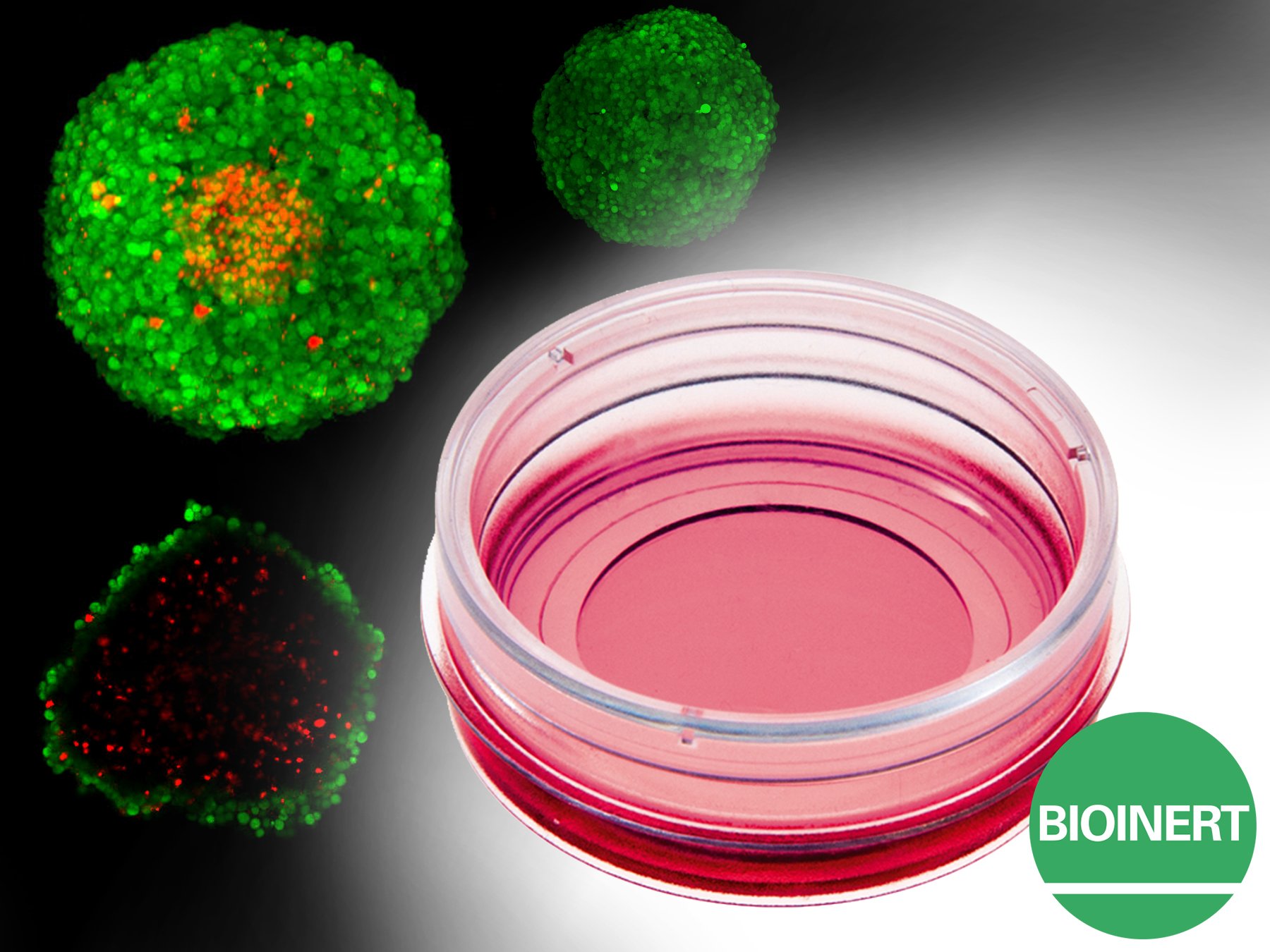 https://ibidi.com/img/cms/about_us/press/ibidi_pr_2018_04_Bioninert.jpg
Contact Details:
ibidi GmbH
Am Klopferspitz 19
82152 Martinsried
Germany
Phone: +49 89-520 46 17-0
Fax: +49 89-520 46 17-59
[email protected]
www.ibidi.de

ibidi Produktneuheit:
Langzeitkultur und hochauflösende Mikroskopie von Sphäroiden und Suspensionszellen: Das µ-Dish 35 mm, high Bioinert
München, Deutschland, 3. Mai 2018 – Mit dem µ-Dish 35 mm, high Bioinert liefert ibidi eine neuartige Lösung für alle Wissenschaftler, die Langzeitkultur und hochauflösende Mikroskopie von Sphäroiden oder Suspensionszellen in einem Dish kombinieren wollen.
Die Bioinert-Oberfläche ist eine dünne Polyol-Schicht, die kovalent an das ibidi Polymer Coverslip des µ-Dish 35 mm, high gebunden ist. Im Gegensatz zu herkömmlichen "Ultra-Low-Attachment (ULA) Coatings" ist Bioinert zu 100 Prozent non-adhärent und verhindert jegliche Bindung von Biomolekülen und Zellen – sogar in Langzeit-Experimenten. Damit bietet Bioinert über mehrere Tage oder sogar Wochen eine stabile Passivierung in zellbasierten Assays. Das flache, dünne Bodenmaterial sowie die exzellenten optischen Eigenschaften des ibidi Polymer Coverslips ermöglichen außerdem hochauflösende Mikroskopie ohne störende Autofluoreszenz.
Das gebrauchsfertige µ-Dish 35 mm, high Bioinert vereint höchste optische Qualität mit vollständiger Passivierung der Oberfläche. Dies macht es besonders interessant für Wissenschaftler, die Zell-Zell-Interaktionen von Suspensionszellen, Sphäroiden und Embryoid Bodies untersuchen.
Bild: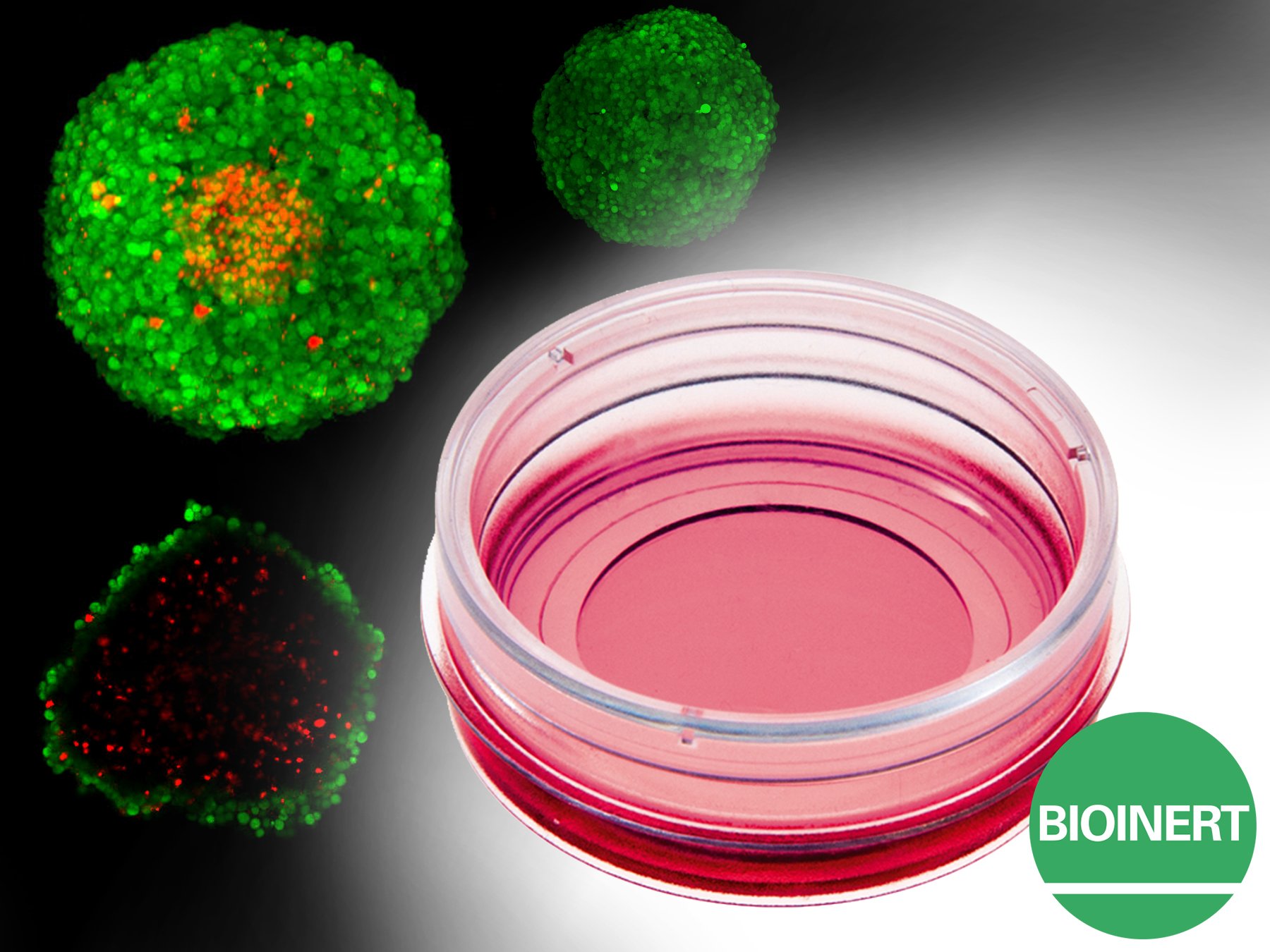 https://ibidi.com/img/cms/about_us/press/ibidi_pr_2018_04_Bioninert.jpg
Kontaktadresse:
ibidi GmbH
Am Klopferspitz 19
82152 Martinsried
Tel.: +49 89-520 46 17-0
Fax: +49 89-520 46 17-59
[email protected]
www.ibidi.de