ibidi Product News: LifeAct-TagGFP2 Protein—Immediate F-Actin Visualization in Living and Fixed Cells
Published : 01/17/2018 10:48:03
Categories : Press
>> Pressemitteilung auf Deutsch lesen
Munich, Germany, January 17, 2018 – Achieve fast staining and immediate functional analysis of filamentous actin (F-actin) in living and fixed cells with ibidi's new reagent, LifeAct-TagGFP2 Protein. The addition of this recombinant protein extends the successful ibidi LifeAct product line for F-actin visualization and offers an interesting, non-toxic and non-invasive alternative to phalloidin.
F-actin is a key component of the cytoskeleton and is involved in many important cellular processes such as cell division, cell migration, and endocytosis. LifeAct—a 17-amino acid peptide that is derived from a protein found in yeast—specifically binds F-actin structures in living or fixed eukaryotic cells, while uniquely retaining full actin dynamics. Conjugated with GFP, it can be conveniently introduced into cells, making it the ideal tool for F-actin labeling.
With LifeAct-TagGFP2 Protein, scientists can easily transfect living cells (e.g., using a protein transfection reagent such as ibidi's Fuse-It-P), then get brilliant fluorescence microscopy images of cellular F-actin structures within minutes for analysis.
LifeAct-TagGFP2 Protein keeps unrestricted actin functionality and does not interfere with cytoskeletal dynamics. This, and the excellent signal-to-noise ratio, make it especially interesting for researchers who investigate the cytoskeletal organization, cellular dynamics, or the function of actin binding proteins using live cell imaging.
Image: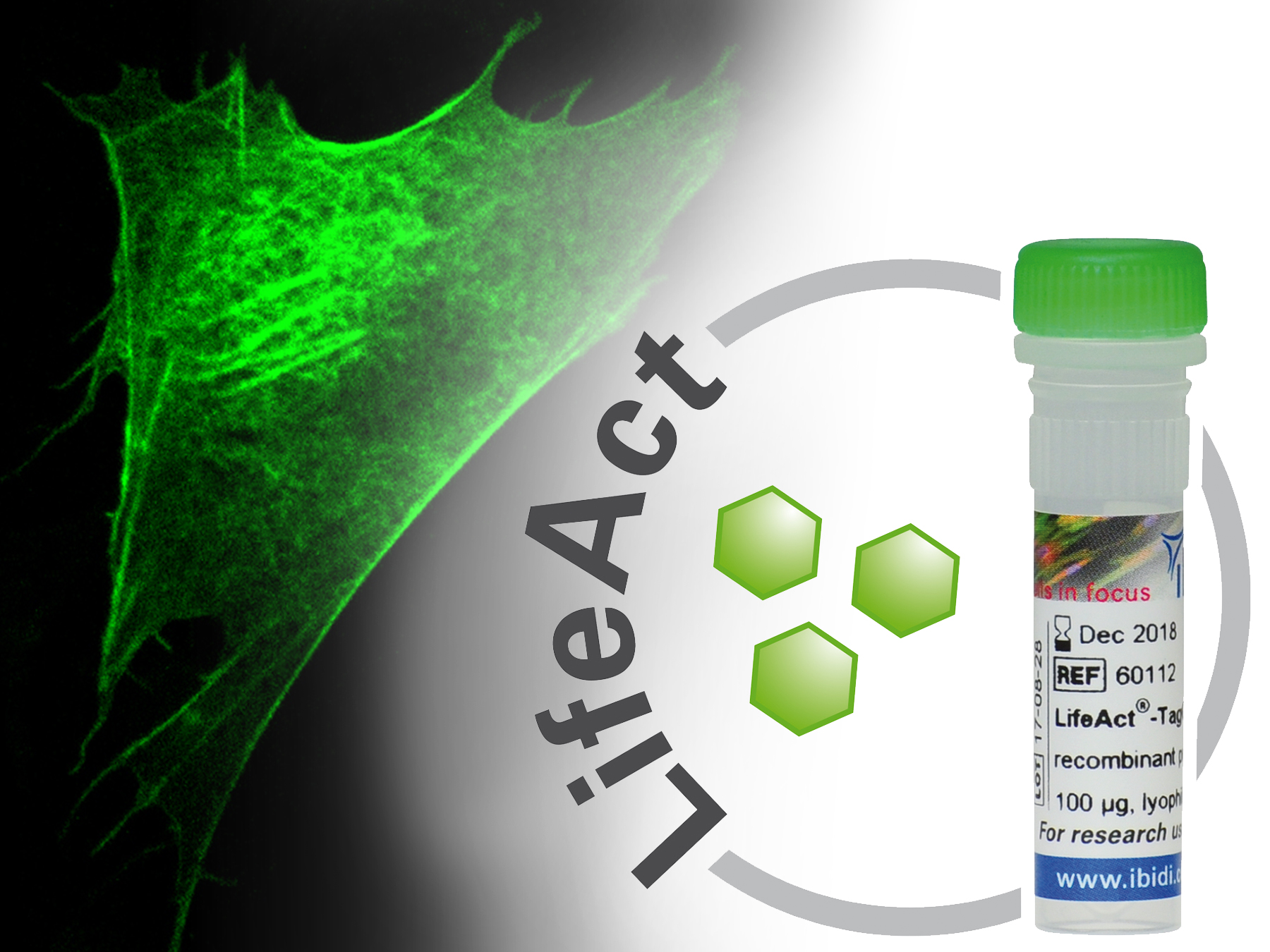 https://ibidi.com/img/cms/about_us/press/ibidi_pr_2018_01_LifeAct_Protein.jpg
Contact Details:
ibidi GmbH
Am Klopferspitz 19
82152 Martinsried
Germany
Phone: +49 89-520 46 17-0
Fax: +49 89-520 46 17-59
[email protected]
www.ibidi.de

ibidi Produktneuheit:
LifeAct-TagGFP2 Protein – Schnelle Analyse von F-Aktin in lebenden und fixierten Zellen
München, Deutschland, 17. Januar 2018 – LifeAct-TagGFP2 Protein ist ein rekombinantes Protein für schnelle Färbung und sofortige funktionelle Analyse von Aktinfilamenten (F-Aktin) in lebenden und fixierten Zellen. Mit diesem neuen Reagenz erweitert ibidi die erfolgreiche LifeAct-Produktlinie zur F-Aktin-Visualisierung und bietet damit eine ungiftige und nicht-invasive Alternative zu Phalloidin an.
F-Aktin ist eine Schlüsselkomponente des Zytoskeletts und in wichtige zelluläre Prozesse involviert, wie z.B. Zellteilung, Migration und Endozytose. LifeAct ist ein 17 Aminosäuren langes Peptid, das von einem Protein aus der Bäckerhefe abstammt. Es bindet spezifisch an F-Aktin in lebenden oder fixierten eukaryotischen Zellen. Nach Konjunktion mit GFP kann es leicht in Zellen eingebracht und so ideal für die Markierung von F-Aktin eingesetzt werden – während die zellulären Funktionen von Aktin komplett erhalten bleiben.
Wissenschaftler können mit LifeAct-TagGFP2 Protein lebende Zellen sehr einfach transfizieren (z.B. mit dem ibidi Protein-Transfektionsreagenz Fuse-It-P) und innerhalb von Minuten hochqualitative Bilder zellulärer Aktinfilamente zur weiteren Analyse erhalten.
LifeAct-TagGFP2 Protein bewahrt die komplette Aktin-Funktionalität und interferiert nicht mit der Dynamik des Zytoskeletts. Dies und das exzellente Signal-Rausch-Verhältnis machen es besonders interessant für Anwender, welche die Organisation des Zytoskeletts, die Zelldynamik oder die Funktion von Aktin-bindenden Proteinen mittels Live-Cell-Imaging untersuchen.
Bild: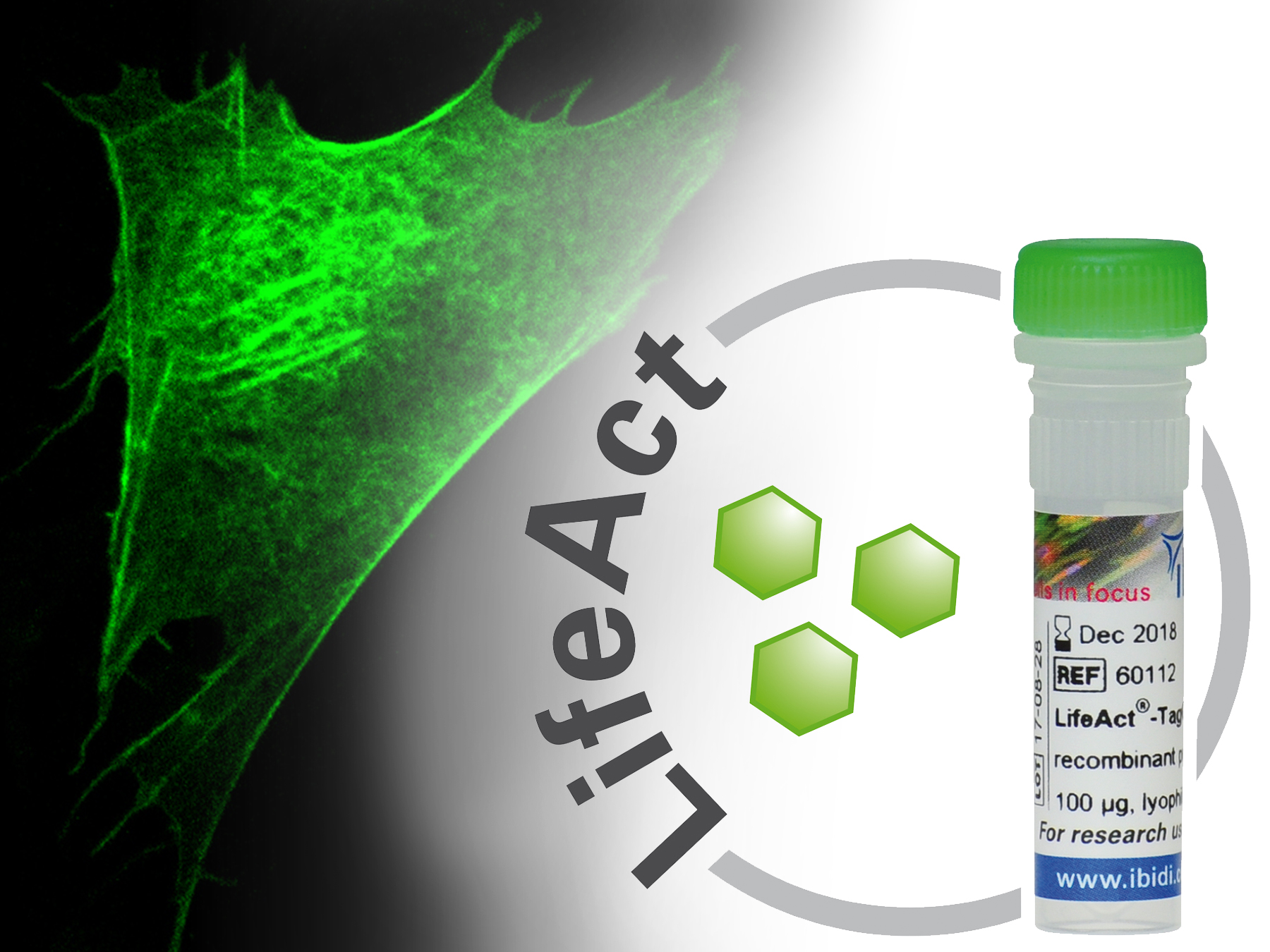 https://ibidi.com/img/cms/about_us/press/ibidi_pr_2018_01_LifeAct_Protein.jpg
Kontaktadresse:
ibidi GmbH
Am Klopferspitz 19
82152 Martinsried
Tel.: +49 89-520 46 17-0
Fax: +49 89-520 46 17-59
[email protected]
www.ibidi.de