ibidi Product News: Fuse-It-siRNA—Fast and Biocompatible siRNA Transfection
Published : 09/14/2017 11:25:16
Categories : Press
>> Pressemitteilung auf Deutsch lesen
Munich, Germany, September 14, 2017 – Fuse-It-siRNA is an innovative new transfection reagent that enables rapid and efficient gene silencing with the highest biocompatibility, even in sensitive and difficult-to-transfect cells, such as primary keratinocytes. ibidi's novel method for endosome-independent siRNA transfection fully retains cellular functionality and viability. Using Fuse-It-siRNA, the researcher can focus directly on the knockdown phenotype without being distracted by side effects of the transfection method, such as cell stress and toxicity.
The simple principle: The Fuse-It liposomal carrier, which includes the siRNA, fuses with the cell membrane and then releases the siRNA directly into the cytoplasm. Thus, the siRNA is immediately incorporated into the RISC complex, leading to efficient gene knockdown without the interfering processes of endocytosis or lysosomal degradation.
Based on the charge of natural cell membranes, Fuse-It-siRNA can be used with most cell types. Especially researchers, who perform knockdown studies in sensitive primary cells, will benefit highly from the extremely low cytotoxicity. Membrane fusion with Fuse-It-siRNA provides a fast and biocompatible solution for targeted gene silencing in living cells.
Image: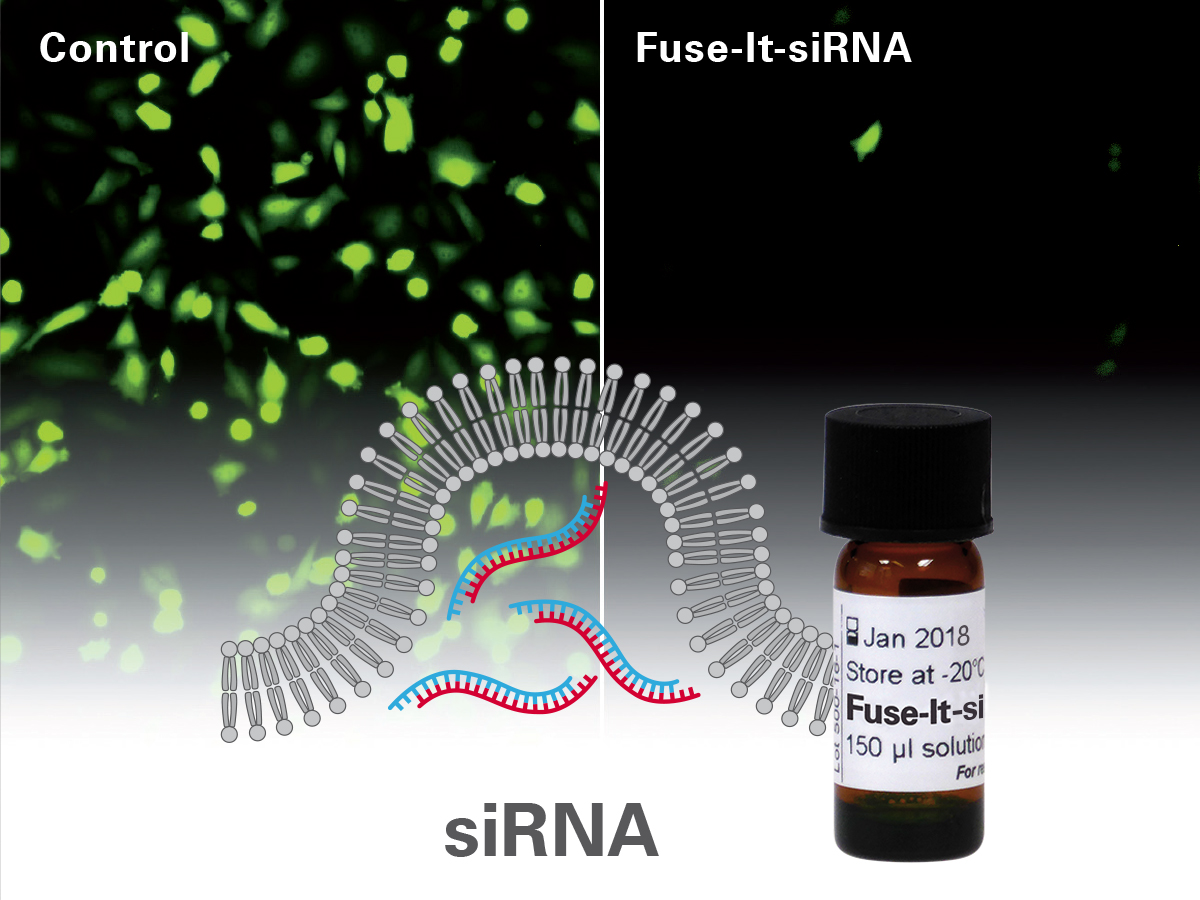 http://www.ibidi.com/img/cms/about_us/press/ibidi_pr_2018_09_Fuse_It_siRNA.jpg
Contact Details:
ibidi GmbH
Am Klopferspitz 19
82152 Planegg/Martinsried
Germany
Phone: +49 89-520 46 17-0
Fax: +49 89-520 46 17-59
[email protected]
www.ibidi.de

ibidi Produktneuheit: Fuse-It-siRNA – Schnelle und biokompatible siRNA-Transfektion
München, Deutschland, 14. September 2017 – Fuse-It-siRNA ist ein innovatives, neues Transfektionsreagenz für schnelles und effizientes Gen-Silencing. Auch in sensitiven und schwierig zu transfizierenden Zellen, wie z.B. primären Keratinozyten, beweist es hohe Biokompatibilität. ibidi bringt hiermit ein endosom-unabhängiges siRNA-Transfektionsreagenz auf den Markt, das die volle Funktion und Viabilität der Zelle bewahrt. Mit Fuse-It-siRNA kann sich der Forscher komplett auf den eigentlichen Knockdown-Phänotyp fokussieren, ohne von potenziellen Nebeneffekten der Transfektion, wie Zellstress und Toxizität, abgelenkt zu werden.
Das Prinzip ist einfach: der liposomale Fuse-It-Träger, der die siRNA enthält, fusioniert mit der Zellmembran und entlässt die siRNA direkt ins Zytoplasma. Die siRNA bindet unmittelbar an den RISC-Komplex, was zum Knockdown des gewünschten Gens führt – unabhängig von störenden Prozessen wie Endozytose oder lysosomaler Degradation.
Basierend auf der Ladung natürlicher Zellmembranen kann Fuse-It-siRNA mit den meisten Zelltypen verwendet werden. Besonders Wissenschaftler, die Knockdown-Studien in sensitiven Primärzellen durchführen, werden von der niedrigen Zytotoxizität stark profitieren. Die Membranfusion mit Fuse-It-siRNA ist eine außergewöhnlich schnelle und biokompatible Lösung für gerichtetes Gen-Silencing in lebenden Zellen.
Bild: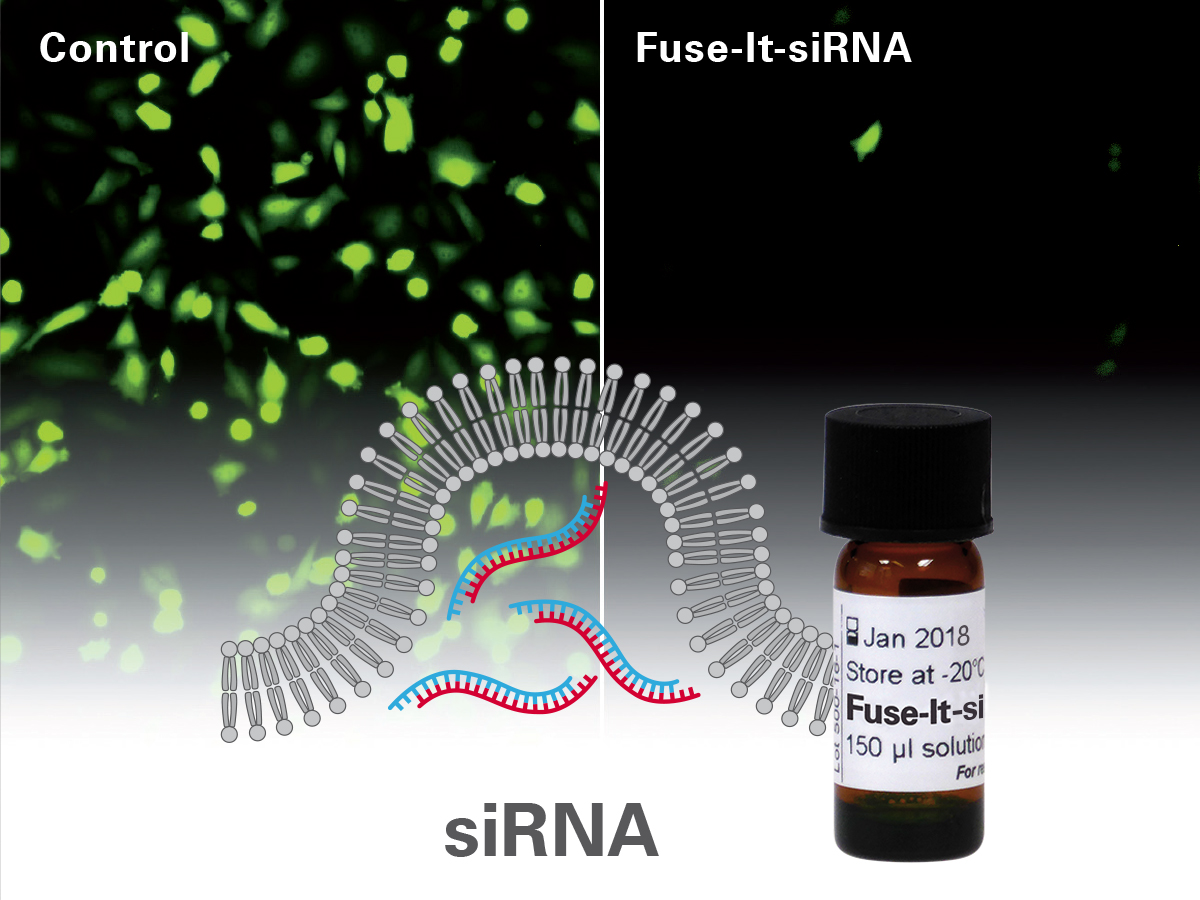 http://www.ibidi.com/img/cms/about_us/press/ibidi_pr_2018_09_Fuse_It_siRNA.jpg
Kontaktadresse:
ibidi GmbH
Am Klopferspitz 19
82152 Planegg/Martinsried
Tel.: +49 89-520 46 17-0
Fax: +49 89-520 46 17-59
[email protected]
www.ibidi.de