ibidi Product News: A Ready-to-Use, LifeAct-Encoding mRNA for Rapid and Non-Toxic F-Actin Visualization in Cells
Published : 11/15/2018 09:25:03
Categories : Press
>> Pressemitteilung auf Deutsch lesen
Munich, Germany, November 15, 2018 – With their latest reagent, mRNA LifeAct-TagGFP2, ibidi has created a rapid, non-invasive and non-toxic solution for the visualization of filamentous actin (F-actin) in living and fixed eukaryotic cells.
As a key component of the cytoskeleton, F-actin orchestrates many crucial cellular processes, such as cell division and cell migration. The LifeAct peptide binds F-actin structures with a high specificity, while still keeping their full functionality. mRNA LifeAct-TagGFP2 encodes a fusion protein of LifeAct and a GFP reporter, allowing for cellular F-actin visualization with an excellent signal-to-noise ratio.
mRNA LifeAct-TagGFP2 is particularly interesting for researchers who analyze the cytoskeleton organization and actin dynamics using live cell fluorescence imaging. The fully processed, mature mRNA is optimized for stability, resulting in high levels of LifeAct peptide expression. Since the mRNA does not integrate into the host cell's genome, no biosafety laboratory level 1 or 2 is needed.
Scientists can rapidly transfect their cells with mRNA LifeAct-TagGFP2 by using ibidi's highly biocompatible mRNA transfection reagent, Fuse-It-mRNA easy. This new fusion reagent is ideally suited for sensitive and primary cells. As an introductory offer, a free sample of Fuse-It-mRNA easy is included with every order of the LifeAct mRNA.
Image: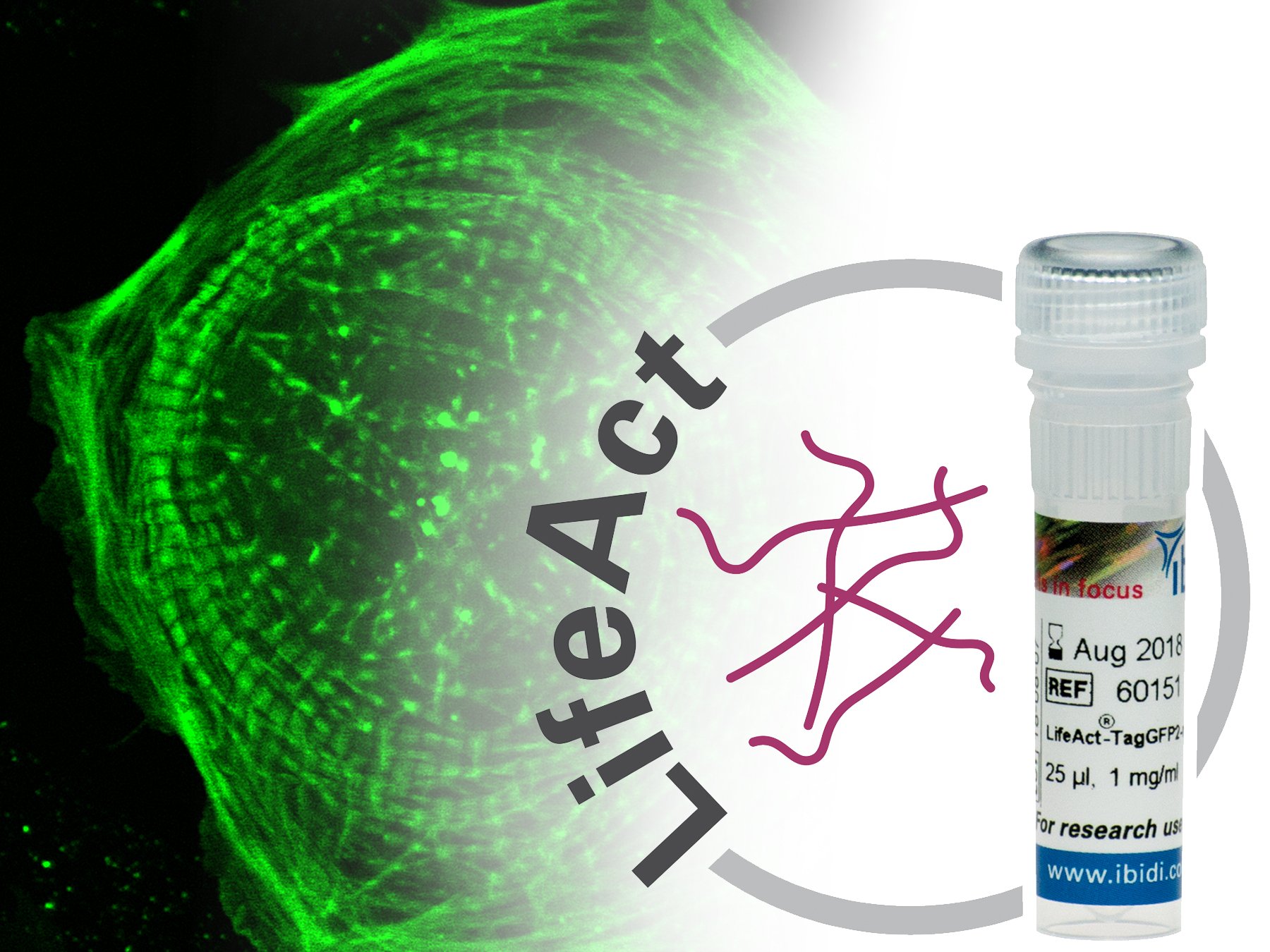 https://ibidi.com/img/cms/about_us/press/ibidi_pr_2018_11_LifeAct_mRNA.jpg
Contact Details:
ibidi GmbH
Am Klopferspitz 19
82152 Martinsried
Germany
Phone: +49 89-520 46 17-0
Fax: +49 89-520 46 17-59
[email protected]
ibidi.com

ibidi Produktneuheit:
Gebrauchsfertige LifeAct-kodierende mRNA zur schnellen und ungiftigen Visualisierung von F-Aktin in Zellen
München, Deutschland, 11. November 2018 – Mit seinem neuen Produkt mRNA LifeAct-TagGFP2 bietet ibidi eine schnelle, nicht-invasive und ungiftige Möglichkeit zur Visualisierung von Aktinfilamenten (F-Aktin) in lebenden und fixierten eukaryotischen Zellen.
F-Aktin ist eine Schlüsselkomponente des Zytoskeletts, die für viele wichtige Prozesse in der Zelle, wie z.B. Zellteilung und Zellmigration, notwendig ist. Das LifeAct-Peptid bindet hochspezifisch an F-Aktin-Strukturen und bewahrt dabei vollständig deren Funktion. mRNA LifeAct-TagGFP2 kodiert ein Fusionsprotein aus LifeAct und dem GFP-Reporter und ermöglicht dadurch die Visualisierung von zellulärem F-Aktin.
mRNA LifeAct-TagGFP2 ist besonders interessant für Untersuchungen der Aktindynamik und Organisation des Zytoskeletts. Die fertig prozessierte mRNA bleibt auch in der Zelle stabil und ermöglicht eine hohe Expression des LifeAct-Peptids. Ein weiterer Vorteil: Da die mRNA nicht in das Genom der Wirtszelle integriert, wird kein S1 oder S2-Labor benötigt.
Mithilfe von Fuse-It-mRNA easy, dem mRNA-Transfektionsreagenz von ibidi, können ForscherInnen ihre Zellen schnell und einfach mit der LifeAct mRNA transfizieren. Fuse-It-mRNA easy eignet sich durch seine hohe Biokompatibilität hervorragend für sensitive und primäre Zellen. Als Einführungsaktion wird jeder mRNA LifeAct-TagGFP2-Bestellung ein kostenloses Fuse-It-mRNA easy Muster beigelegt.
Bild: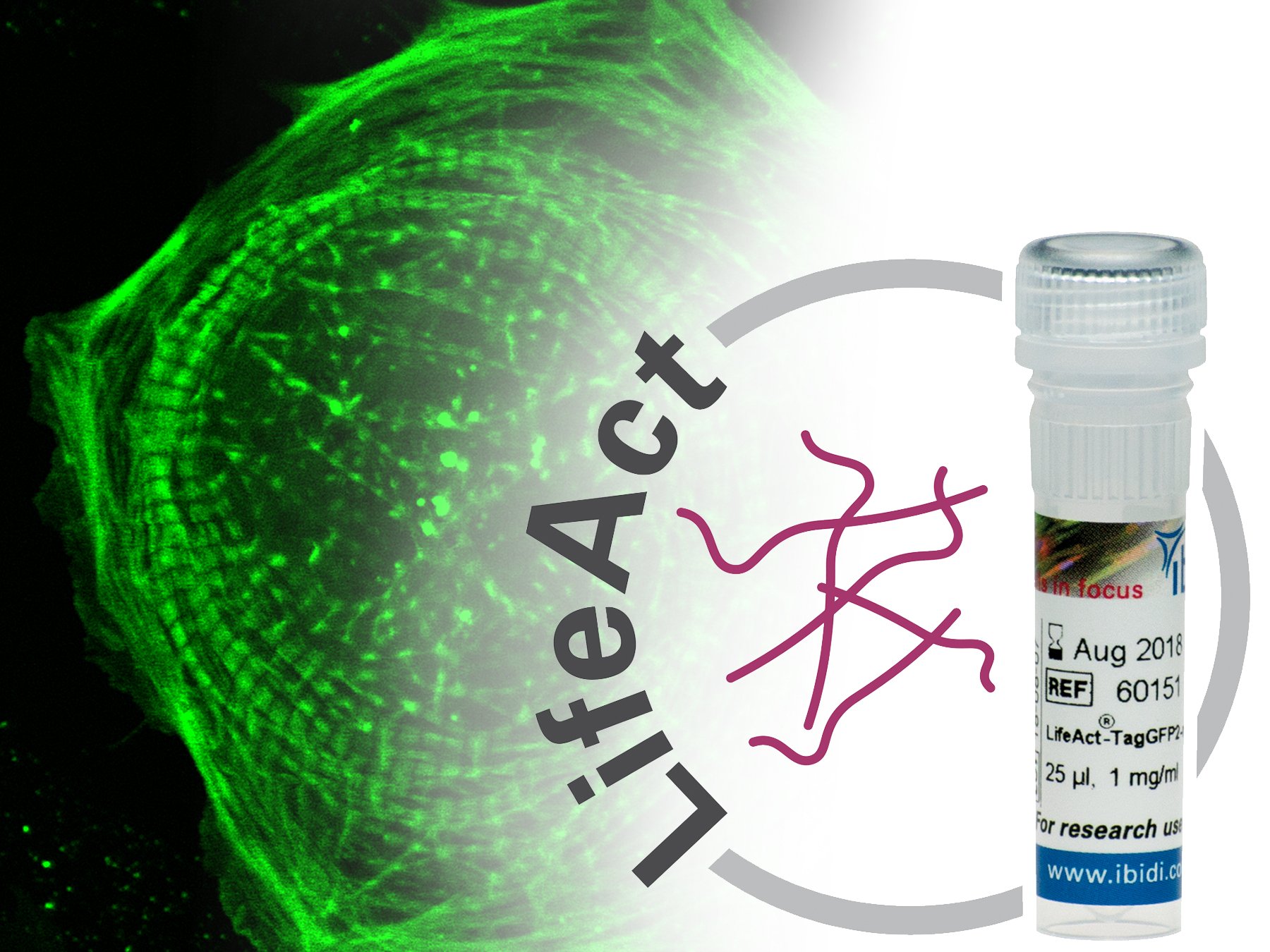 https://ibidi.com/img/cms/about_us/press/ibidi_pr_2018_11_LifeAct_mRNA.jpg
Kontaktadresse:
ibidi GmbH
Am Klopferspitz 19
82152 Martinsried
Tel.: +49 89-520 46 17-0
Fax: +49 89-520 46 17-59
[email protected]
ibidi.com