From Capturing Viruses to Bioprinting: ibidi Sponsors the Nano Innovation Award 2021
Published : 08/11/2021 11:00:00
Categories : Press
>> Pressemitteilung auf Deutsch lesen

The LMU Center for NanoScience (CeNS) and four LMU spin-off companies, including ibidi, have joined forces to reward the best innovative theses on nanotechnology with the Nano Innovation Award 2021.

Munich, August 11, 2021—Three doctoral students from Munich received this year's Nano Innovation Award from the Center for NanoScience. The award for innovative research in application-oriented nanoscience, co-sponsored by ibidi, is endowed with 9,000 €. An expert jury from industry and science, which included Dr. Roman Zantl, CEO and co-founder of ibidi, selected the winners from applicants from all over Bavaria.



While most science awards honor excellent results in basic research, the Nano Innovation Award focuses on high innovation and application potential. The companies attocube systems, ibidi, Nanion Technologies, and NanoTemper Technologies, together with CeNS, award the prize to talented and creative young scientists whose results are not only interesting for basic research but also promise future technological applications.
| | |
| --- | --- |
| | The first prize went to Christian Sigl from the Technical University of Munich, who developed the molecular basis for an unconventional antiviral concept. His work is based on the idea of enclosing whole viruses in macromolecular shells that block the molecular interactions between virus and host cell. The DNA origami platform he developed for this purpose offers a promising approach for combating different viruses using the same concept. The shells developed by Christian provide the technical basis for the interdisciplinary EU consortium VIROFIGHT, which will further test and develop the new therapeutic concept. |
| | The jury awarded the second place to Jan Felber from Ludwig-Maximilians-Universität Munich. In his work, he succeeded for the first time in creating cell-selective redox sensors for disease-relevant reductases (a specific group of enzymes). His work opens up a broad spectrum of potential applications in biomedicine, ranging from basic research and applications in drug development to clinical diagnostics and therapeutics. Jan Felber has already started several transfer projects (e.g., a start-up for the development of therapeutics and a collaboration with Tubulis GmbH for a novel and powerful linker for antibody-drug conjugates). |
| | Jun Zhang from Munich University of Applied Sciences secured the third place with a novel bioprinting technology that can transfer cells from a reservoir to a target substrate with very high precision using ultra-short laser pulses. By integrating the setup into an inverted optical microscope, it becomes possible to preselect individual cells from complex cell mixtures. The potential applications are manifold - from fundamental questions in cell biology, to single-cell analysis methods, to the production of organs-on-a-chip and tissue engineering. A BMBF-funded project is now developing a user-friendly, fully automated system based on Jun Zhang's findings. |
Four former CeNS spin-offs have been supporting the award since 2015: the companies attocube systems, ibidi, Nanion Technologies, and NanoTemper Technologies. "For ibidi, CeNS is a constant source of inspiration through technological and personal exchange and an important link to the scientific community. Once again this year, the work submitted for the Nano Innovation Award stood out for its exceptionally high creativity and quality. Congratulations to the winners and all participants!" says Roman Zantl, co-founder and managing director of ibidi and this year's jury member.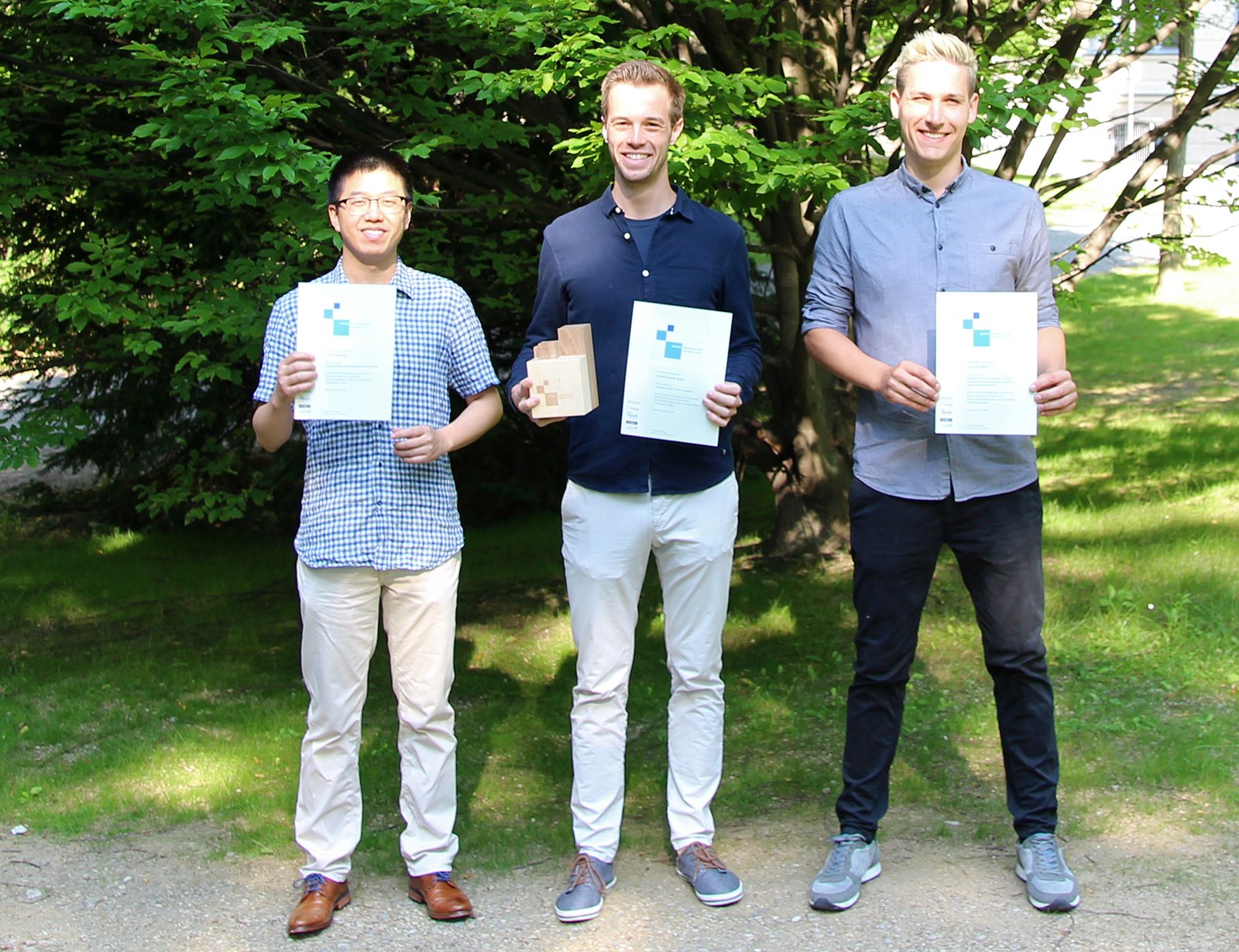 Image: https://ibidi.com/img/cms/about_us/press/ibidi_pr_2021_08_Nano_Innovation Award_Winners.jpg
ibidi GmbH, located in Gräfelfing near Munich, Germany, is a leading supplier of functional cell-based assays and products for cell microscopy. The ibidi range of products offers solutions for classic cell culturing, and also complex assays (e.g., angiogenesis, chemotaxis, and wound healing). Their products help facilitate an understanding of the development of various diseases and related therapies. ibidi's customers are working in scientific institutions, industrial pharmacology, and biotechnology. Technology development at ibidi is supported by the BMBF (Bundesministerium für Bildung und Forschung). The products are sold to customers worldwide.

About the Center for NanoScience (CeNS)—www.cens.de
The Center for NanoScience (CeNS) is a scientific institution at LMU Munich that promotes and coordinates interdisciplinary research in the field of nanoscience. CeNS spans various disciplines such as physics, chemistry, biochemistry, and pharmacy. In addition to LMU research groups, CeNS also brings together groups from TU Munich, the Max Planck Institute for Biochemistry, and other institutions in the Munich area.

For more information please contact:
Dr. Susanne Seifert
ibidi GmbH
Lochhamer Schlag 11
82166 Gräfelfing
Tel.: +49 89 520 46 17 34
ibidi.com
[email protected]
Dr. Susanne Hennig
Center for NanoScience (CeNS)
LMU München
Geschwister-Scholl-Platz 1
80539 München
Tel.: +49 89 2180 5791
www.cens.de
[email protected]
---
Von der Idee zur Anwendung:
ibidi sponsort den Nano Innovation Award 2021

Das LMU Center for NanoScience (CeNS) und vier Spin-off-Unternehmen der LMU, darunter ibidi, haben sich zusammengetan, um die besten innovativen Promotionsarbeiten zur Nanotechnologie mit dem Nano Innovation Award 2021 zu prämieren.

München, 11.08.2021 – Drei Doktoranden aus München haben den diesjährigen Nano Innovation Award des Center for NanoScience erhalten. Der von ibidi co-gesponsorte Preis für innovative Forschung in anwendungsorientierten Nanowissenschaften ist mit 9.000 € dotiert. Eine Fachjury aus Wirtschaft und Wissenschaft, der auch Dr. Roman Zantl, CEO und Mitgründer von ibidi angehörte, wählte aus Bewerbern aus ganz Bayern die Gewinner aus.



Während die meisten Wissenschaftspreise exzellente Ergebnisse in der Grundlagenforschung auszeichnen, steht beim Nano Innovation Award ein hohes Innovations- und Anwendungspotential im Fokus. Gestiftet wird der Preis von vier erfolgreichen Ausgründungen des Center for NanoScience (CeNS), die durch ihre eigene Firmengeschichte direkt mit der Idee des Preises verbunden sind. Die Firmen attocube systems AG, ibidi GmbH, Nanion Technologies GmbH und NanoTemper Technologies GmbH zeichnen damit gemeinsam mit CeNS begabte und ideenreiche Nachwuchswissenschaftler aus, deren Ergebnisse nicht nur für die Grundlagenforschung von Interesse sind, sondern gleichzeitig vielversprechende technologische Anwendungsmöglichkeiten erwarten lassen.
| | |
| --- | --- |
| | Der erste Preis ging an Christian Sigl von der Technischen Universität München, der in seiner Dissertation die molekularen Grundlagen für ein unkonventionelles antivirales Konzept entwickelt hat. Seine Arbeit basiert auf der Idee, ganze Viren in makromolekulare Hüllen (Shells) einzuschließen, die die molekularen Interaktionen zwischen Virus und Wirtszelle blockieren. Die dazu von ihm entwickelte DNA-Origami-Plattform bietet einen vielversprechenden Ansatz, um verschiedene Viren mit einem einheitlichen Konzept zu bekämpfen. Christian Sigls Arbeiten bilden die technische Grundlage für das interdisziplinäre EU-Konsortium VIROFIGHT, das das neue therapeutische Konzept weiter testen und entwickeln wird. |
| | Den zweiten Platz verlieh die Jury an Jan Felber von der LMU München. In seiner Arbeit gelang es ihm, zum ersten Mal zellselektive Redox-Sensoren für krankheitsrelevante Reduktasen (eine bestimmte Gruppe von Enzymen) zu schaffen. Seine Arbeit eröffnet ein breites Spektrum möglicher Anwendungen in der Biomedizin, von der Grundlagenforschung über den Einsatz in der Medikamentenentwicklung bis hin zu klinischen Diagnostika und Therapeutika. Dazu hat Jan Felber bereits mehrere Transferprojekte auf den Weg gebracht, z.B. die Ausgründung eines Start-ups für die Entwicklung von Therapeutika und die Zusammenarbeit mit der Tubulis GmbH für einen neuartigen und leistungsstarken Linker für Antikörper-Wirkstoff-Konjugate. |
| | Jun Zhang von der Hochschule München sicherte sich den dritten Platz mit einer neuartigen Bioprinting-Technologie, die mit sehr hoher Präzision Zellen mit Hilfe ultrakurzer Laserpulse aus einem Reservoir auf ein Zielsubstrat übertragen kann. Durch die Integration des Aufbaus in ein inverses optisches Mikroskop wird es zusätzlich möglich, einzelne Zellen aus komplexen Zellmischungen vorzuselektieren. Die potenziellen Anwendungen sind vielfältig – von grundlegenden Fragen in der Zellbiologie über Einzelzell-Analysemethoden bis hin zur Herstellung von Organs-on-a-Chip und Tissue Engineering. Im Rahmen eines vom BMBF geförderten Projekts wird nun ein benutzerfreundliches, vollautomatisches System entwickelt, das auf Jun Zhangs Ergebnissen basiert. |
Vier als Ausgründungen aus dem CeNS hervorgegangene Firmen unterstützen den Preis: attocube systems, ibidi, Nanion Technologies und NanoTemper Technologies. "CENS ist für ibidi eine ständige Inspirationsquelle durch technologischen und persönlichen Austausch und ein wichtiges Bindeglied in die Wissenschaftsszene. Auch in diesem Jahr zeichneten sich die eingereichten Arbeiten für den Nano Innovation Award durch außergewöhnlich hohe Kreativität und Qualität aus. Herzlichen Glückwunsch an die Preisträger und alle Teilnehmer!", sagt Roman Zantl, Mitbegründer und Geschäftsführer von ibidi und in diesem Jahr Mitglied der Jury.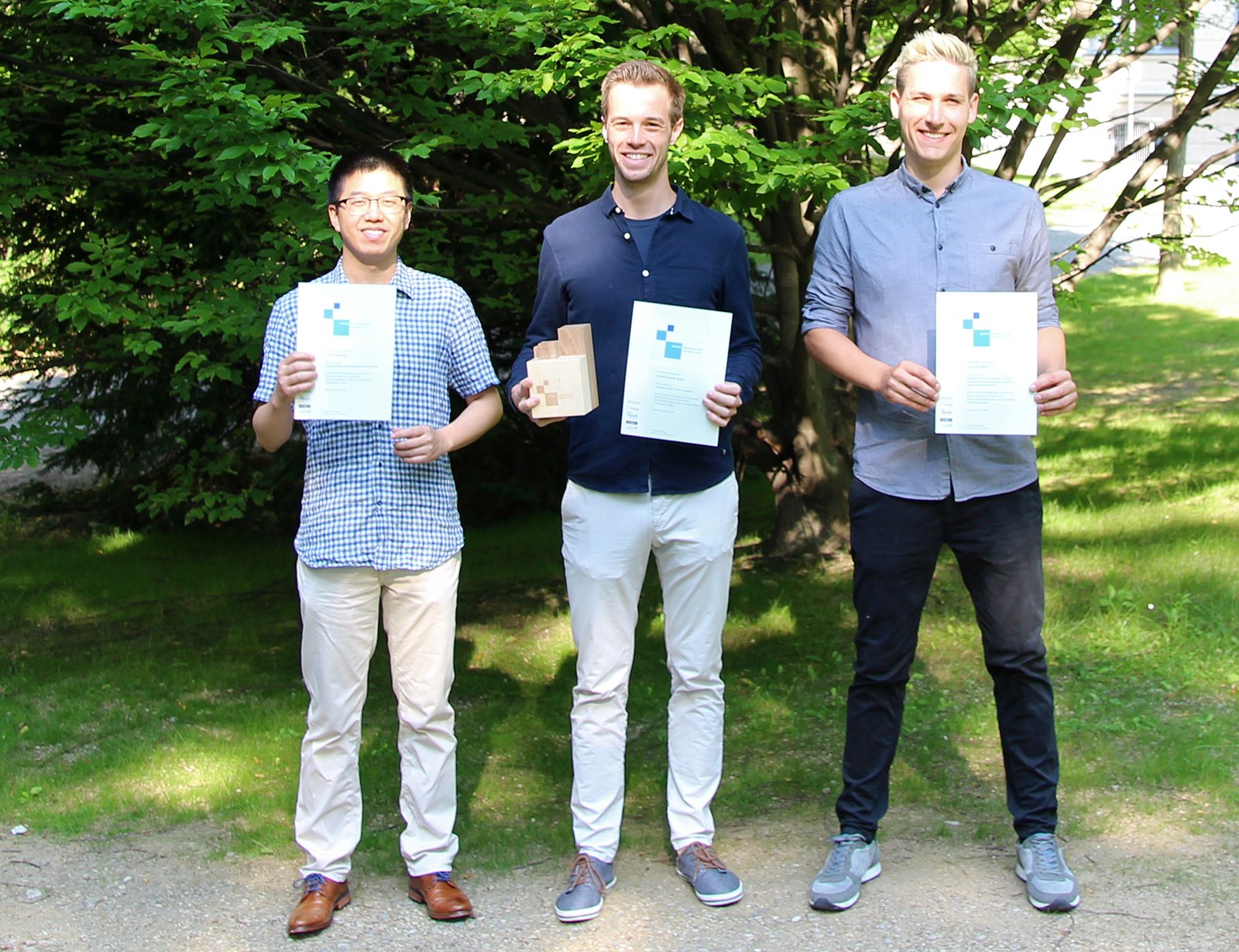 Bild: https://ibidi.com/img/cms/about_us/press/ibidi_pr_2021_08_Nano_Innovation Award_Winners.jpg

Über die ibidi GmbH – ibidi.com
Die ibidi GmbH, Gräfelfing bei München, ist ein führender Anbieter funktioneller zellbasierter Assays sowie von Produkten für die Zellmikroskopie. Die umfangreiche Reihe von Produkten bietet Lösungen für die klassische Zellkultur sowie für komplexe Assays wie z.B. Angiogenese, Chemotaxis oder Wundheilung. Durch die Produkte von ibidi wird das Verständnis von Entstehung und Behandlung unterschiedlicher Krankheiten erleichtert. Die Kunden von ibidi arbeiten weltweit in Forschungseinrichtungen, in der forschenden Pharmaindustrie und der Biotechnologie. Die Technologie von ibidi wird in zahlreichen BMBF-Projekten gefördert. Der Vertrieb der Produkte erfolgt weltweit.

Über das Center for NanoScience (CeNS) – www.cens.de
Das Center for NanoScience (CeNS) ist eine wissenschaftliche Einrichtung der LMU München, die interdisziplinäre Forschung auf dem Gebiet der Nanowissenschaften fördert und koordiniert. Dabei werden von CeNS verschiedene Disziplinen wie Physik, Chemie, Biochemie und Pharmazie überspannt. In CeNS kooperieren neben Arbeitsgruppen der LMU auch Gruppen der TU München, des Max-Planck-Instituts für Biochemie und anderer Institutionen im Münchner Raum.

Hinweis: Frei zur redaktionellen Verwendung!

Um weitere Informationen zu erhalten kontaktieren Sie bitte:
Dr. Susanne Seifert
ibidi GmbH
Lochhamer Schlag 11
82166 Gräfelfing
Tel.: +49 89 520 46 17 34
ibidi.com
[email protected]
Dr. Susanne Hennig
Geschäftsführerin, Center for NanoScience (CeNS)
LMU München
Geschwister-Scholl-Platz 1
80539 München
Tel.: +49 89 2180 5791
Fax: +49 89 2180 5649
www.cens.de
[email protected]