ibidi Product News: Establish Lung Models With the µ-Slide Membrane ibiPore Flow
Published : 05/07/2020 17:08:29
Categories : Press
>> Pressemitteilung auf Deutsch lesen
Munich, Germany, May 5, 2020 – The current COVID-19 pandemic places an extraordinarily high importance on SARS-CoV-2-related research using physiological lung models. The new µ-Slide Membrane ibiPore Flow has a porous glass membrane for transmigration and transport studies under both static and flow conditions. This makes it ideal for the establishment of cellular lung models with an air-liquid interface (ALI). In addition, various experimental approaches in 2D or 3D, such as endothelial barrier assays, co-cultivation of two different cell types, or apical-basal cell polarity assays can be performed.
The slide's horizontal porous glass membrane is inserted between two channels and has brilliant optical quality for high-resolution microscopy. The upper channel above the membrane is a static reservoir. The lower channel is a perfusion channel for applying defined shear stress on cells, which are attached to the membrane. The upper and the lower channel communicate with each other only across the membrane.
To create a lung model with an air-liquid interface (ALI), a polarized cell monolayer (e.g., lung epithelial cells) is cultured on the upper side of the porous membrane, which is exposed to air. From the lower channel, the cells are supplied by culture medium under defined shear stress.
Four different pore sizes are available for various cell types. Researchers can test the slide for their application with a trial pack containing two slides.
Please contact us at [email protected], if you would like to cooperate with ibidi on a specific application.
Image: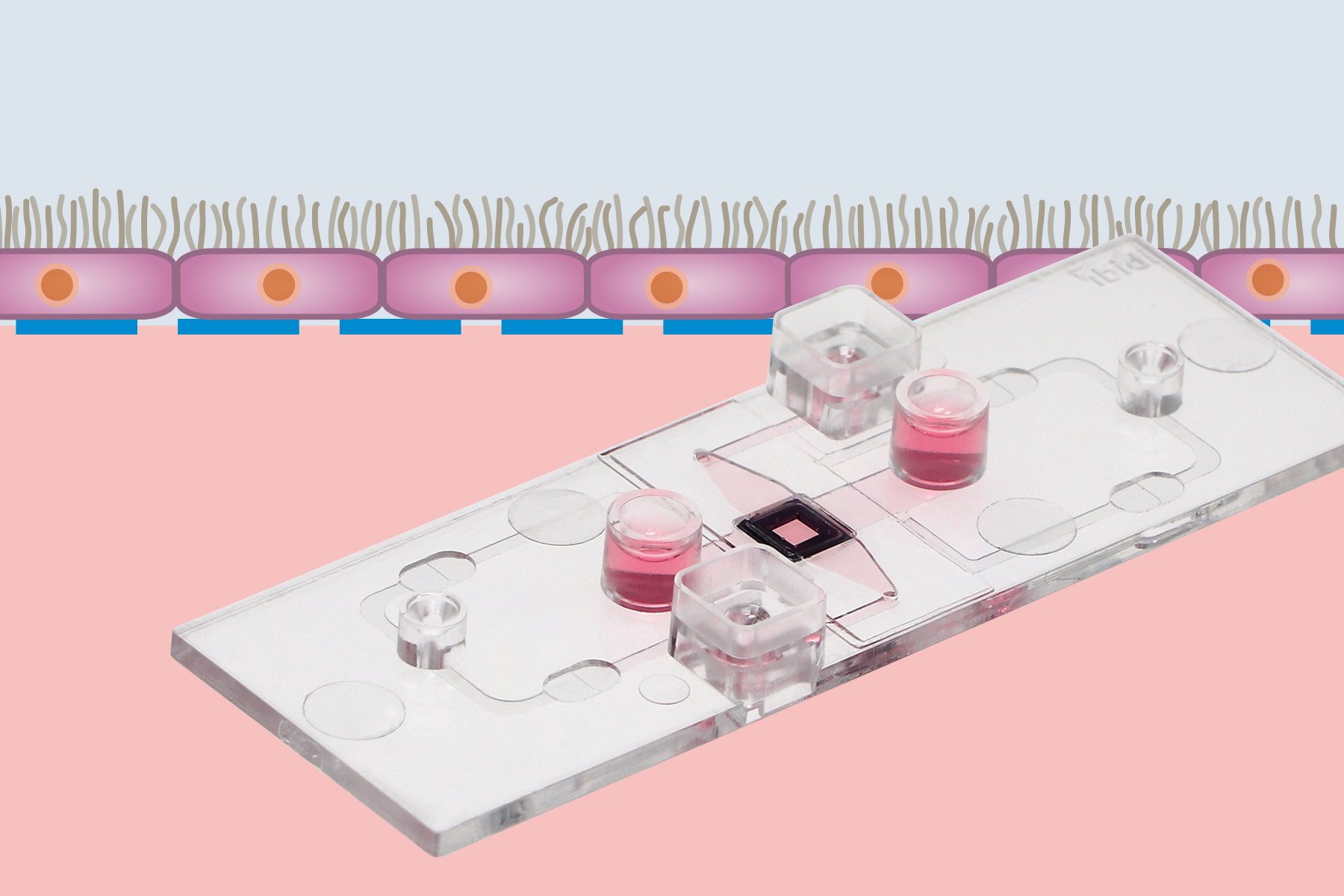 https://ibidi.com/img/cms/about_us/press/ibidi_PR_2020_05_Membrane_ibiPore_Flow.jpg
Contact Details:
ibidi GmbH
Lochhamer Schlag 11
82166 Gräfelfing
Germany
Phone: +49 89-520 46 17-0
Fax: +49 89-520 46 17-59
[email protected]
https://ibidi.com

ibidi Produktneuheit:
Etablierung von Lungenmodellen mit dem µ-Slide Membrane ibiPore Flow
München, Deutschland, 5. Mai 2020 – Die aktuelle COVID-19-Pandemie verleiht der Forschung an SARS-CoV-2 unter Verwendung physiologischer Lungenmodelle eine außerordentlich hohe Bedeutung. Das neue µ-Slide Membrane ibiPore Flow verfügt über eine poröse Glasmembran für Transmigrations- und Transportstudien unter statischen sowie Flussbedingungen. Dadurch eignet es sich ideal für die Etablierung von zellulären Lungenmodellen mit einem Air-Liquid-Interface (ALI). Zusätzlich können verschiedene Experimente in 2D oder 3D durchgeführt werden, wie Endothelbarrieren-Assays, Co-Kultivierung von zwei verschiedenen Zelltypen oder Apikal-Basal-Zellpolaritätstests.
Zwischen den zwei Kanälen des Slides befindet sich eine horizontale, poröse Glasmembran mit brillanter optischer Qualität für hochauflösende Mikroskopie. Der oberhalb gelegene Kanal dient dabei als statisches Reservoir. Im unteren Kanal kann durch Perfusion definierter Scherstress für die auf der Membran adhärierten Zellen erzeugt werden. Der obere und der untere Kanal kommunizieren ausschließlich über die Membran miteinander.
Um ein Lungenmodell mit einer Luft-Flüssigkeits-Grenzfläche (ALI) zu etablieren, wird ein polarisierter Zell-Monolayer (z. B. Lungenepithelzellen) auf der Oberseite der porösen Membran kultiviert, die der Luft ausgesetzt ist. Vom unteren Kanal aus werden die Zellen unter definiertem Fluss mit Kulturmedium versorgt.
Für verschiedene Zelltypen stehen vier verschiedene Porengrößen zur Verfügung. ForscherInnen können den Objektträger für ihre Anwendung mit einem Trial Pack testen, das zwei Objektträger enthält.
Bitte kontaktieren Sie uns unter [email protected], wenn Sie für eine spezifische Anwendung mit ibidi zusammenarbeiten möchten.
Bild: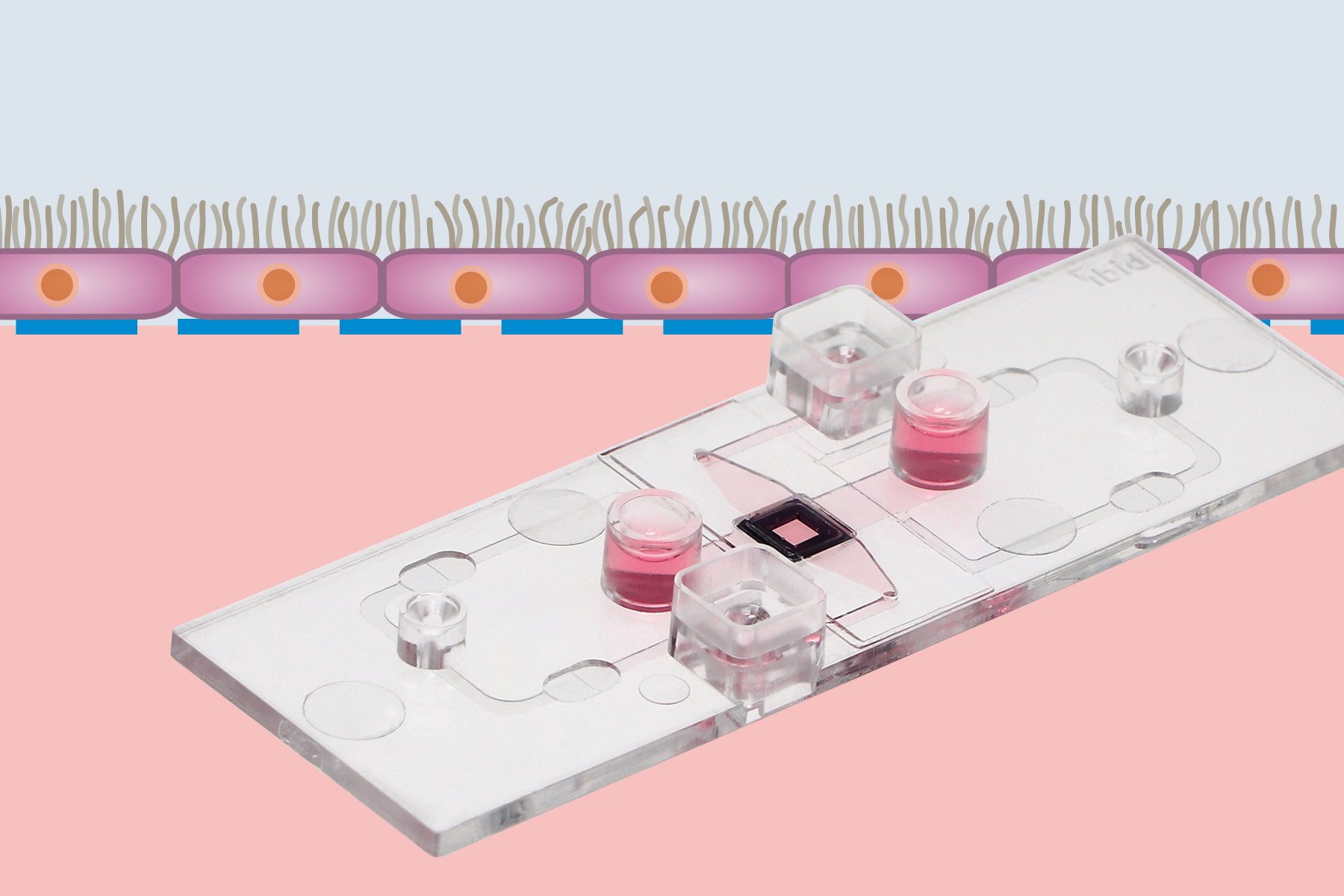 https://ibidi.com/img/cms/about_us/press/ibidi_PR_2020_05_Membrane_ibiPore_Flow.jpg
Kontaktadresse:
ibidi GmbH
Lochhamer Schlag 11
82166 Gräfelfing
Tel.: +49 89-520 46 17-0
Fax: +49 89-520 46 17-59
[email protected]
https://ibidi.com